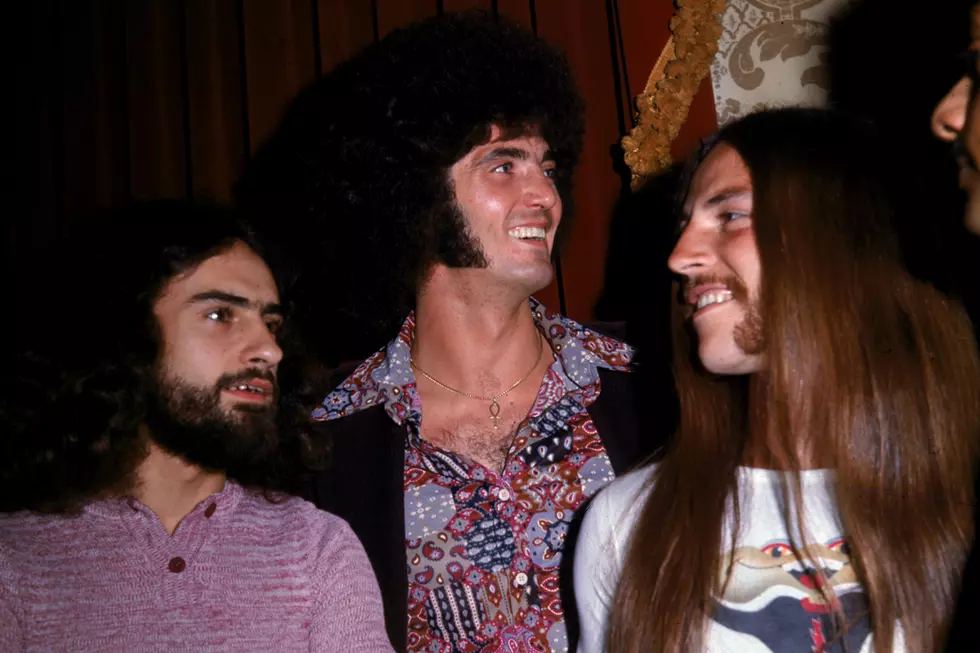 How Grand Funk Railroad Sold Out Shea Faster Than the Beatles
Hulton Archive, Getty Images
Grand Funk Railroad's sold-out show on July 9, 1971, at New York's Shea Stadium is famous for selling its 55,000 tickets in 72 hours – faster than the Beatles had in August 1965. That record at the home of baseball's Mets stood until the ballpark was demolished in 2008.
"The side door stayed open on this huge helicopter all the way, and when we got there, we looked down, and thought, 'Holy shit, man!'" guitarist Mark Farner recalled in SF Sonic. "Humble Pie was on stage and set up on second base. The stadium was rocking, I mean visually rocking … bouncing up and down, and we could see it from the air. We landed in the parking lot where the limo was supposed to be, but there was no limo!"
"'The guy who was with us ran down to the phone booth on the corner," he continued, "and within three or four minutes, there were cop cars with lights and sirens going. So, we jumped in the back, pulled into Shea Stadium, and the crowd went crazy at the sight of Grand Funk jumping out of police cruisers."
The band was introduced as "Thus Spake Zarathustra" boomed from the P.A. system. Although known as the "people's band" for their popularity despite critics' pans, Grand Funk had yet to score most of their monster hits at the time.
Watch Grand Funk Railroad Perform at Shea Stadium
"We sold out Shea Stadium before 'We're an American Band,' 'Some Kind of Wonderful,' 'The Loco-Motion' or 'Bad Time,'" Farner told Goldmine. "There were no hit singles. It was all underground radio that we were getting played on."
The set included a pre-release version of "Footstompin' Music" and "I'm Your Captain (Closer to Home)." "It was the Vietnam era and everybody wanted the war to stop," Farner told MLB.com. "They got behind 'I'm Your Captain,' and even today, it's the most requested song of all Vietnam veterans. It's easy to see why. A soldier who's dug in, he wants to be closer to home, and maybe that's why he can survive day after day with the bullets flying. It still fits today in that theater of war.
"And it was powerful. Women were crying. Guys were crying. It was a very emotional time. New York City in 1971 was ready not only to hear the song but to react to the feelings it stirred up. And they reacted. They sang it louder than the damn P.A., dude. I could hear them singing louder than I was singing."
Despite the distinction of breaking the Beatles' ticket record, drummer Don Brewer told Classic Rock Revisited that the accomplishment was not all that it seemed. "From the time period between the Beatles playing there and when we played there they got their ticket-selling process together and they could sell tickets faster. It really wasn't anything more than that.
"When the Beatles played there nobody knew how to sell tickets for shows of that magnitude, as shows like that were not happening. By the time we played there, other bands had played there between the time they played there and we did. We did sell out faster than the Beatles, no doubt about it. But look how fast things sell out now. They sell out instantaneously and what is it due to? Technology."
The Top 10 Albums of the '70s