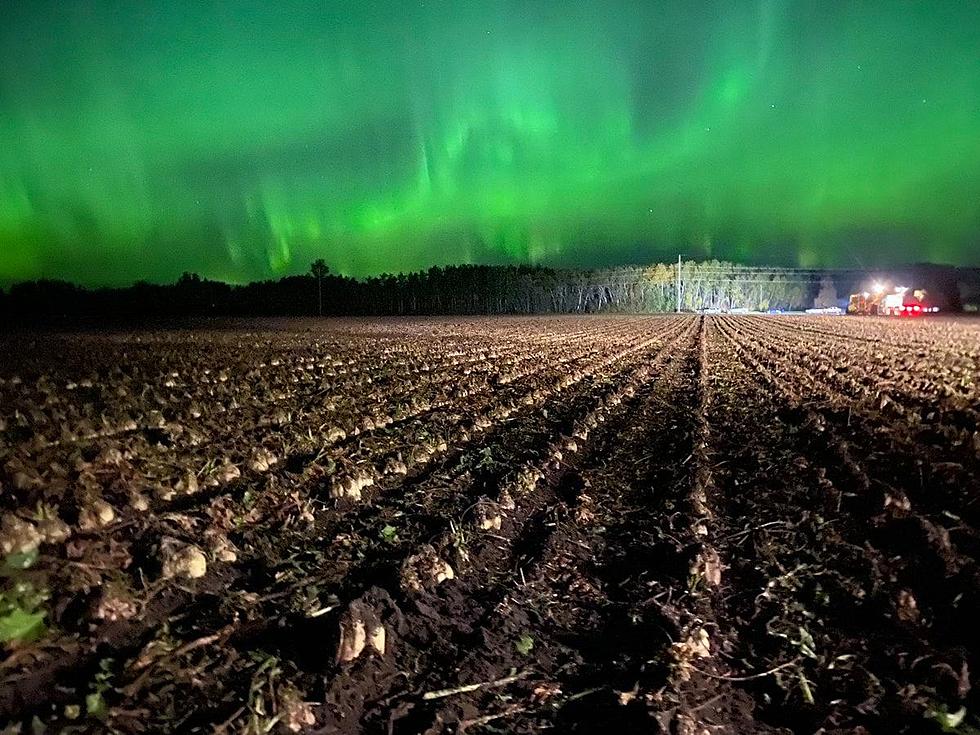 ALL Of Minnesota Could Get Quite A Light Show Tonight
Gabe Carlson Farms
Looking for something exciting to watch on television tonight?
How about hiding the remote somewhere until tomorrow afternoon? Because tonight (Friday, October 29th) all of Minnesota could be treated to a spectacular Northern Lights show! If you have lived in North Dakota and have been fortunate and lucky to have seen one of these amazing occurrences, you have never forgotten what the colors are like, how the skies erupted under Mother Nature's paintbrush.
How and why will all of Minnesota be affected?
According to bringmethenews "In what NASA officials have called a "significant solar flare," the sun let off a massive eruption Thursday that will send a huge coronal mass ejection hurtling towards the Earth and result in what is expected to be a phenomenal northern lights experience" I wish I could understand all the technical terms and reasons WHY this will cause a light show, but it is pretty amazing. Something to do with the particles of the sun will reach earth, and that will set off something to behold. It's going to be something you won't want to miss
Explain Northern Lights again
According to loc.gov "The northern lights, one of several astronomical phenomena called polar lights (Aurora Polaris), are shafts or curtains of colored light visible on occasion in the night sky..."
Will the weather cooperate?
bringmethenews reports  "...the weather might cooperate with mainly clear skies Friday night into Saturday morning..."  However, they go on to say that if it doesn't happen until tomorrow night, then clouds could come in. The most obvious advice I have heard about watching the Northern Lights is to get as far away from the city lights as you can get. Imagine how glorious the colors will be, intertwined with others, and the stars dancing among them. Another gift from above.
---
LOOK: 50 famous memes and what they mean
With the infinite number of memes scattered across the internet, it's hard to keep track. Just when you've grasped the meaning of one hilarious meme, it has already become old news and replaced by something equally as enigmatic. Online forums like Tumblr, Twitter, 4chan, and Reddit are responsible for a majority of meme infections, and with the constant posting and sharing, finding the source of an original meme is easier said than done. Stacker hunted through internet resources, pop culture publications, and databases like
Know Your Meme
to find 50 different memes and what they mean. While the almost self-replicating nature of these vague symbols can get exhausting, memes in their essence can also bring people closer together—as long as they have internet access.
LOOK: Here are the best lake towns to live in
Many of the included towns jump out at the casual observer as popular summer-rental spots--the Ozarks' Branson, Missouri, or Arizona's Lake Havasu--it might surprise you to dive deeper into some quality-of-life offerings beyond the beach and vacation homes. You'll likely pick up some knowledge from a wide range of Americana: one of the last remaining 1950s-style drive-ins in the Midwest; a Florida town that started as a Civil War veteran retirement area; an island boasting some of the country's top public schools and wealth-earners right in the middle of a lake between Seattle and Bellevue; and even a California town containing much more than Johnny Cash's prison blues.