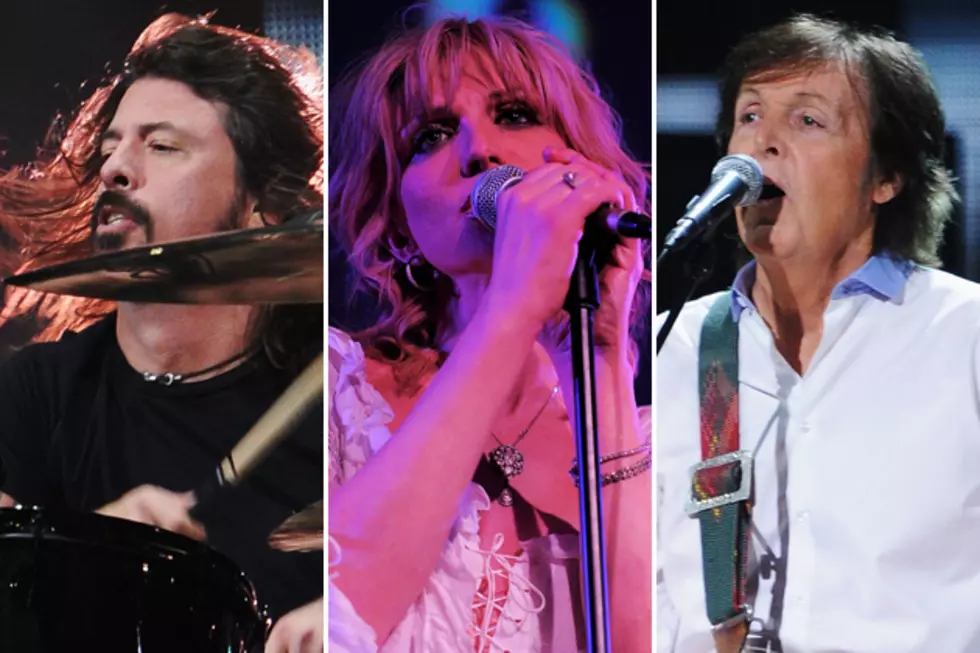 Courtney Love 'Not Amused' By Paul McCartney + Nirvana Collaboration
Larry Busacca / Jemal Countess / Larry Busacca, Getty Images
There's no doubt that the Paul McCartney-Nirvana member collaboration on 'Cut Me Some Slack' was one of the highlights of the 12-12-12 Hurricane Sandy benefit concert, but not everyone is happy about the pairing. Kurt Cobain's widow, Courtney Love, tells TMZ that she was "not amused" after hearing the news.
The show found Dave Grohl reuniting with Krist Novoselic and Pat Smear, all of whom spent time with Nirvana, with McCartney taking lead on the song which generally received positive reviews after the show. However, Love stated, "Look, if John [Lennon] were alive, it would be cool."
Love also told TMZ that she was upset with Novoselic and Grohl for calling the 12-12-12 performance "a Nirvana reunion," because she says that Cobain was the heart and soul of the band.
Grohl, Novoselic and Smear joined McCartney only for the one track amidst a bigger McCartney performance that closed out the evening. The song, 'Cut Me Some Slack,' will live on beyond the benefit as the Foo Fighters tweeted after the show that it was the first song off of the upcoming 'Sound City' documentary soundtrack.