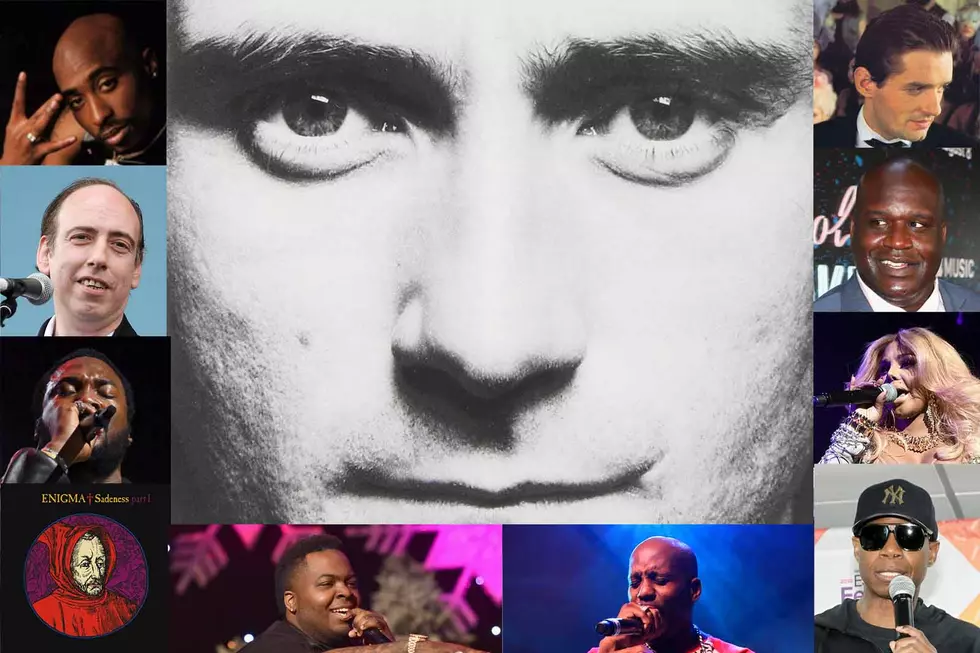 20 Times Rappers Sampled Phil Collins' 'In the Air Tonight'
Atlantic / Getty Images / Death Row / A&M / Charisma
For almost as long as rock songs have been sampled by hip-hop acts and DJs, Phil Collins' "In the Air Tonight" has been a popular choice. We've collected 20 tracks based on the classic song from 1981's Face Value below.
Whether it's the keyboards, percussion loop, vocals, that iconic drum break or any combination of those elements, the song has proven to be one of the most versatile for hip-hop producers who want to set a mood. According to whosampled, "In the Air Tonight" has been nearly 80 times over the years. Here are some of our favorites.
1. Meek Mill, "Intro" (2018)
Meek Mill opened Championships, his first album after being released from prison in 2018, with "Intro." The track is built around the keyboard sounds from "In the Air Tonight," with Collins' vocal then setting the stage before Mill starts rapping.
2. 2Pac feat. Outlawz, "Staring Through My Rear View" (1997)
A year after 2Pac's death, a new song, "Staring Through My Rear View," appeared on the soundtrack to the 1997 movie Gang Related, in which he had a supporting role. The sample features Collins' famous drums, which are slightly sped up with other instruments layered on top of them.
3. DMX, "I Can Feel It" (1998)
"I Can Feel It" -- which uses a line from "In the Air Tonight" as its title -- shows up near the end of DMX's debut album, It's Dark and Hell Is Hot. It samples Collins and features rapper Nardo on the hook.
4. Falco, "Rock Me Amadeus (Salieri Mix)" (1985)
The earliest appropriation of "In the Air Tonight" that we could find appears on a dance remix of "Rock Me Amadeus," Falco's No. 1 hit from 1985. The original's famous drum break is heard at 3:06 and repeated over the course of the next 10 seconds.
5. Enigma, "Sadeness Part 1 (Hot Tracks Mix)" (1990)
As with the Falco song above, Enigma sampled "In the Air Tonight" on a remix of a hit. In this case, "Sadeness (Part 1)" starts using the famous drum break at 1:07 and repeats it throughout the song.
6. Big Audio Dynamite, "Innocent Child" (1991)
The Globe LP gave Big Audio Dynamite a pair of Modern Rock Top 5 hits in "Rush" and the title track, making the record Mick Jones' most successful release in U.S, since his days in the Clash. A third song from the album, "Innocent Child," was released as a single in Australia, and its percussion subtly incorporates "In the Air Tonight"'s drum loop.
7. Lil' Kim feat. Phil Collins, "In the Air Tonite" (2001)
Collins received featured and co-writing credits here because so much of his hit was used on Lil' Kim's 2001 reinterpretation. The track appeared on Urban Renewal, a 2001 tribute album to Collins by R&B and hip-hop acts that originated as a byproduct of the many requests Collins' publishing company received for sample clearances.
8. Sean Kingston, "Can You Feel It" (2007)
Sean Kingston used Phil Collins' vocals on this deep cut from his self-titled debut album from 2007. Another song on the LP, "Me Love," is based on Led Zeppelin's "D'yer Maker," which is somewhat fitting given Kingston's Jamaican roots.
9. Shaquille O'Neal feat. Bobby Brown, "Edge of Night" (1996)
Daryl Stuermer's siren-like guitar routinely bursts out of the mix on this song from Shaquille O'Neal's third hip-hop record. The basketball star also used his Shaq-Fu to get Bobby Brown to contribute on the track.
10. Doug E. Fresh, "Ev'rybody Loves a Star" (1988)
Nearly two minutes into "Ev'rybody Loves a Star," the rhythm abruptly cuts to a sample from "In the Air Tonight." For the next 45 seconds, Doug E. Fresh raps over it, telling a story about a girl with whom he and his Get Fresh Crew used to hang out with.
11. Girl Talk, "What's It All About" (2008)
DJ and mashup artist Gregg Gillis has challenged the definition of "fair use" in sampling with his Girl Talk project. He's created dozens of new songs using almost nothing but existing tracks, and has given them away on his website. The drum break from "In the Air Tonight" shows up 18 seconds into "What's It All About," from 2008's Feed the Animals, ushering in the vocals.
12. Stooges Brass Band, "Thursday Night House Party" (2016)
This is more of a reference than a sample, but with a few seconds remaining in this funky, hip-hop infused song by New Orleans' Stooges Brass Band, one of the trumpet players calls up "In the Air Tonight" and some of the other musicians sing along in the background.
13. Big K.R.I.T., "My Life Ain't Rosey" (2005)
The synthesizer beds from Collins' hit are sampled by Justin Scott, aka Big K.R.I.T., on "My Life Ain't Rosey," which can be found on See Me on Top, his 2005 debut mixtape.
14. A.Z., "What's Going on Black" (1991)
Azie Faison went from dealing cocaine in Harlem in the '80s to rapping about the dangers of drugs, both with Mobstyle and as a solo act. His life was portrayed in the movie Paid in Full, and he wrote about it all in a 2007 autobiography, Game Over: The Rise and Transformation of a Harlem Hustler.
15. Joe Budden, "Rest in Peace (In the Air)" (2003)
Joe Budden worked many aspects of "In the Air Tonight" into "Rest in Peace (In the Air)," which appeared on his first mixtape, 2003's Mood Muzik - the Worst of Joe Budden. The rapper retired in 2018, and now has a podcast called State of the Culture, which he hosts with Remy Ma.
16. Young Buck, "New York City" (2008)
Even though he was born in Nashville, Young Buck gave some praise to New York City on a track from his 2008 Rumors mixtape. The song features Collins' chorus sung at various points throughout.
17. Luke Vibert, "I Can Phil It" (2015)
Collins singing "I can feel it" is repeated almost nonstop throughout this nearly five-minute electronica track. Luke Vibert has been active in the EDM world since the mid-'90s, also recording as Plug and Wagon Christ.
18. Mic Lowry "Oh Lord" (2016)
Liverpudlian boy band Mic Lowry's debut single, "Oh Lord," included an interpolation of "In the Air Tonight" in its chorus. The song reached No. 54 in the U.K. in 2016.
19. Fifth Harmony, "Sledgehammer" (2014)
At the 1:44 mark of "Sledgehamer," the drum break from "In the Air Tonight" welcomes the chorus. It helped push the third single from Fifth Harmony to No. 40 on the Billboard Hot 100, their best showing at the time. They've since had bigger hits with 2015's "Worth It" and "Work From Home," which hit No. 4 a year later.
20. Critics Choice, "Party Rap" (1986)
Released as a 12" single on Yogi Bear Records in 1986, "Party Rap" was the only music put out by Detroit's Critics Choice. At 4:27, they run through a chorus of "In the Air Tonight."