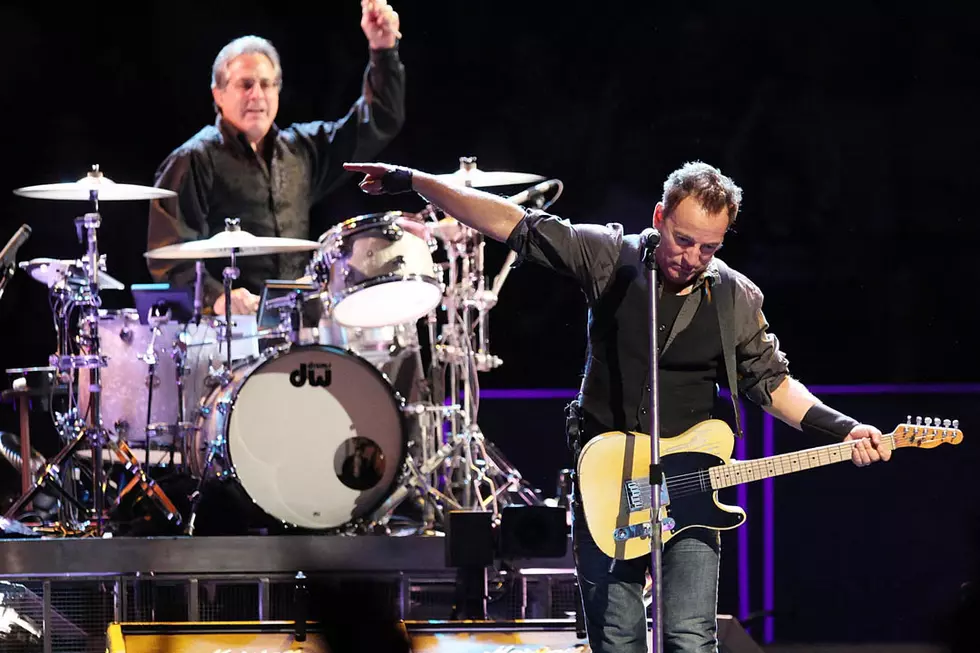 When Max Weinberg Played His First Show With Bruce Springsteen
Roger Kisby, Getty Images
So read the now-famous Village Voice ad that Bruce Springsteen placed in late-summer 1974, seeking a replacement for departed E Street Band drummer Ernest "Boom" Carter. As the ad made clear, Springsteen sought someone who could play with power and economy rather than showy style. And he found what he was looking for in Max Weinberg, who earned his spot after an August audition that ended with a new $110-a-week gig for the young drummer, starting a new chapter in rock 'n' roll history in the bargain.
In fact, as one of his last acts as a member of the E Street Band, Carter tracked drums for the title cut. But if he wasn't a founding member, Weinberg quickly became such a fixture in the lineup that, to many fans, he may as well have been there from the beginning.
"The ad in the Village Voice caught my eye because it said that the band had a Columbia Records contract. That was more than I had," he laughed in a 2012 interview with the Forward. "To get to the audition, I had to climb up four long flights of steps with my drum. After I arrived tired and sweaty, Springsteen greeted me: 'How are you doing? Let's play.' I knew halfway through the audition that we clicked."
Weinberg held the chair throughout Springsteen and the E Street Band's glory years, anchoring the Boss' sound on a string of bestselling LPs that included the bulk of Born to Run and stretched from 1978's Darkness on the Edge of Town through 1987's Tunnel of Love. Not every recording during that period utilized the band on a consistent basis: 1982's Nebraska was a solo effort in the true sense of the term, and Tunnel found Springsteen using E Streeters on a piecemeal basis to augment his solo tracks . Still, it came as a shock when he disbanded the group in 1989, beginning a period in which he'd enlist session ringers (as he did for 1992's Human Touch and Lucky Town) or strip his sound down to bare essentials (1995's The Ghost of Tom Joad).
They found their way back together in 1995, recording new songs for a best-of compilation, followed by the full-fledged 1999 reunion that presaged 2002's well-received The Rising LP. In the interim, Weinberg spent some time wandering between unsatisfying career choices, briefly contemplating law school and running a label before working his way back behind the kit. Despite his pedigree, he resumed his music career slowly, taking odd low-paying gigs like playing bar mitzvahs and working as an understudy on the Tommy Broadway show.
Eventually, Weinberg found a new starring role as the bandleader for the Max Weinberg 7, the musical combo relied upon by Conan O'Brien for accompaniment of all kinds during his 16-year run as the host of NBC's Late Night program, as well as his brief stint as host of The Tonight Show. When original sidekick Andy Richter departed Late Night in 2000, Weinberg assumed his role in a sense, taking on more responsibility and contributing to more comedy sketches. Drumming remained his first love, however, and Weinberg didn't follow when O'Brien started the Conan show for the TBS network in 2010. Instead, he chose to focus on the E Street Band and his 15-piece Max Weinberg Big Band.
In spite of the hiatus – and Weinberg's list of outside projects – he's long been regarded by many listeners simply as Bruce Springsteen's drummer in the E Street Band, a role he seems perfectly happy to continue playing indefinitely.
Looking back on his early days in the band during his Forward interview, he recalled one life-altering and humbling gig in particular, saying, "I found a smoking hot girl. I started playing to the girl. She was picking up the beat. Bruce was ready to stop, but I was the only one that missed the signal to stop. He finally stopped me by taking the drumsticks out of my hand and then pretending to choke me. Needless to say, he was not in a good mood. Bruce had given everyone in the band nicknames. Mine was Mighty Max. When he introduced the band during 'Rosalita,' which was broadcast live on the radio, he introduced me as the Not So Mighty Max. After the show, I knocked on his dressing room door to apologize, feeling like a third grader called to the principal. I have never taken my eyes off since. You never know what Bruce will do onstage."
Bruce Springsteen Albums Ranked