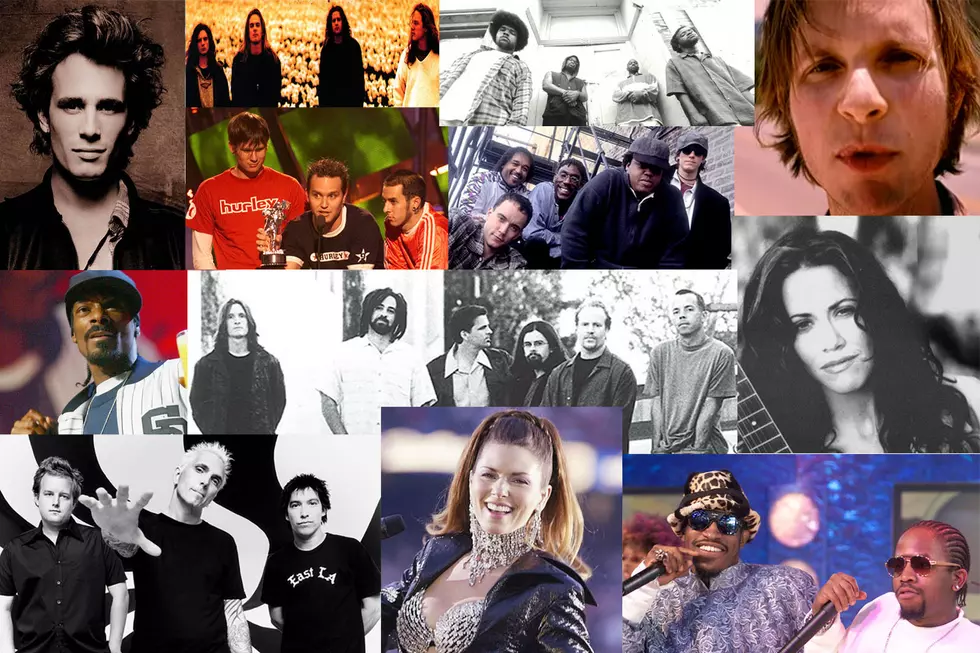 Meet This Year's 12 Most Likely (But Probably Doomed) New Rock Hall Candidates
Getty Images / Geffen / A&M / Capitol / Maverick / Sony
The Rock & Roll Hall of Fame is coming off an exciting year, as the Moody Blues, the Cars and Bon Jovi became part of the Class of 2018. But our hearts sank a little when we looked at who will be newly eligible in 2019 and realized we didn't think any of them will take their place among rock's greatest acts.
The musicians in the gallery below – all of whom put out their first records in 1993 and are therefore eligible for first-time nomination next year – represent the first artists signed in the wake of the alternative revolution of the early '90s, some of the biggest names in hip-hop of the day and one massively successful country-pop crossover act. Many of them have been responsible for plenty of good, and even excellent, music over the years – but they all broke up too soon, lacked commercial or artistic consistency, were never critical favorites or, in one case, died before his potential could be fully realized.
There are a few possible reasons for this. Career longevity has always been a problem for bands, but for most of these acts, who were weaned on the college rock of the late '80s, big-time success added a new wrinkle. A further pivot toward the mainstream ran the risk of alienating original fans, but an attempt to restore alternative credibility – as Nirvana tried with In Utero – ran afoul of their labels' need to sell records.
This dilemma was symbolized by Adam Duritz of Counting Crows, one of the groups eligible for the first time in 2019. "I wanna be Bob Dylan," he sang on their breakthrough single, "Mr. Jones." But when they performed it on Saturday Night Live as their debut was climbing the album chart, he changed it to "I wanna be Alex Chilton," after the Box Tops and Big Star frontman who later became a reluctant cult hero.
By the end of the decade, tastes had shifted too – from the dark sounds of alternative toward the more upbeat pop sounds of boy bands and teen starlets. As record companies consolidated and trimmed rosters, many groups were dropped as soon as they stopped selling as many records that they had in the past.
So, in looking at the next potential class, we think that the Hall will follow their 2018 script, shunning these groups in favor of those they rejected in previous years. If they need some suggestions, we're more than happy to point them to some of our favorite artists who've been snubbed over the years.