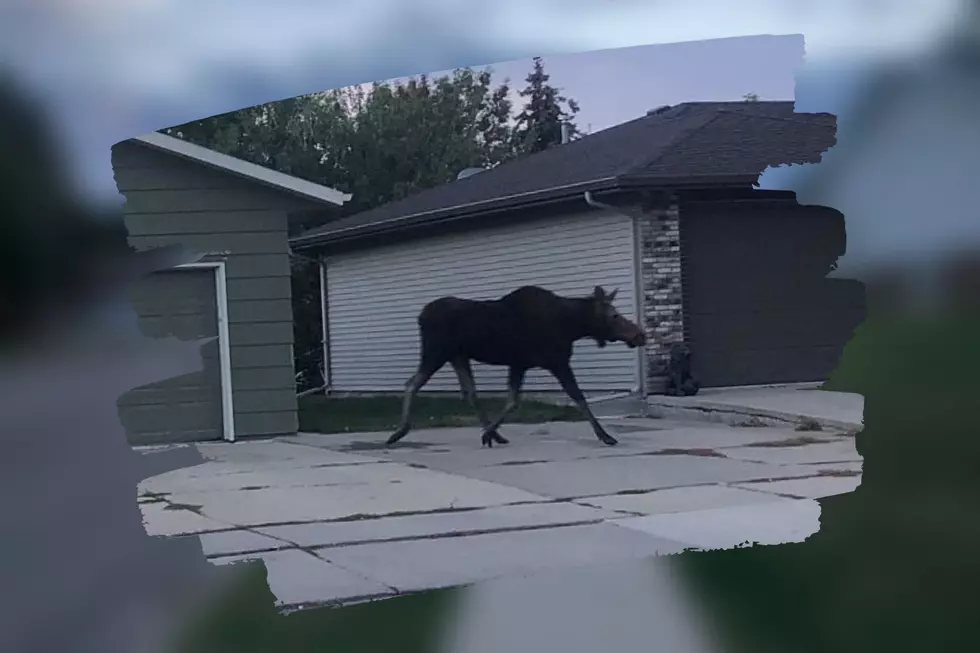 Moose On The Loose In Bismarck
Canva, Leah Roehrich
As of this morning (Monday, October 3rd), there have been multiple sightings of a moose roaming through Bismarck.
Photos of the moose were posted to a Bismarck Facebook group. It was spotted around N. 7th St at approximately 1am. A woman and her husband captured a photo of the animal while walking their dog.
A Second Sighting
Another sighting was posted to the Bismarck's People Reporting News Facebook page, showing it wandering around Turnpike Ave, right around daybreak.
Caution
As this isn't the first moose we've had on the streets of Bismarck, I'm sure you know the drill. Don't approach/disturb the moose. Though I know how tempting it is, do not hold up traffic to gawk at the moose.
Exercise caution. These are very large animals that can be aggressive when they feel threatened.
If you see the moose, feel free to report it to ND Game and Fish and/or the Bismarck Police Department. That said, typically, we must wait for the animal to wander out of town on its own.
FYI
The last "Moose on the loose" incident occurred as recently as June of this year (2022).
Moose Facts, Because Why Not?
Did you know a moose may also be referred to as a "Rubber-nosed swamp donkeys"? This, according to nationalgeographic.com.
Keep in mind: Moose are herbivores; they will not eat you.
Height and Weight: Moose can be as tall as 6.5 ft. They can also weigh as much as 1,800 pounds. Lifespan: The animals typically live between 15 and 20 years, according to the source.
---
8 Annoying Things North Dakotans Do At The Grocery Store
Here's what we need to stop doing.
LOOK: The oldest cities in America
Though the United States doesn't have as long of a history as some Old World countries, it still has plenty of historical charm.
Stacker
brings you a list of the 50 oldest cities in America.