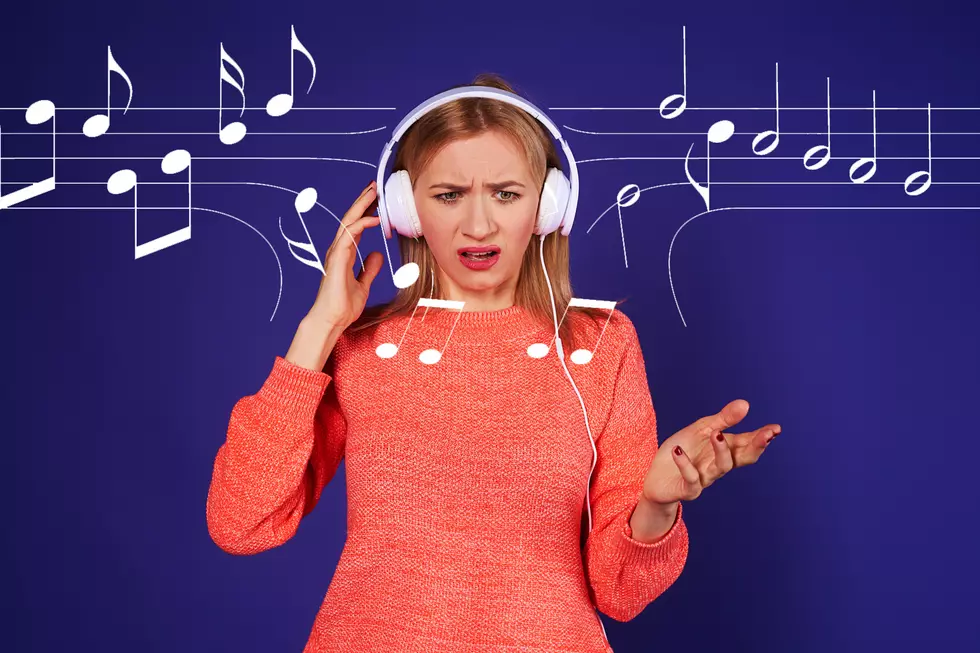 The Most Noticeable Screwups in Classic Rock Songs
Thinkstock
Even your favorite rock god makes a mistake every now and again. And not just onstage or while taking part in some booze-driven shenanigans. In fact, as you'll see in the following list of Screwups in Your Favorite Rock Songs, some of these mishaps even make it onto proper albums. The reasons are many: Sometimes, that was simply the best take; other times, they might have simply found it funny. Rumors have, very understandably, grown up around many of them. Whatever the case, there's always a fizzy sense of discovery when you find a new one.
Pink Floyd, "Wish You Were Here"
From: Wish You Were Here (1975)
Mistake: Accidental cough
Sometimes, a mistake becomes a life-changing moment, and that was apparently the case for David Gilmour during sessions for Pink Floyd's "Wish You Were Here." While recording the delicate intro lines to this song, Gilmour – then a habitual smoker – let out an accidental cough. They decided to leave it in, correctly surmising that it added to the track's cool ambiance, but Gilmour reportedly vowed to give up cigarettes after hearing the playback.
Lynyrd Skynyrd, "Sweet Home Alabama"
From: Second Helping (1974)
Mistake: Lost donuts
Legend has it that Ronnie Van Zant cries out for lost donuts during the last minute of Lynyrd Skynyrd's "Sweet Home Alabama." If you listen closely at roughly the 4:10 mark, it certainly sounds like he's saying "My donuts! Goddamn." The reasons for such an outburst, if it happened, remain up for debate. In both principal theories, the boys go for take-out during a late-night session. After that, one of Van Zant's bandmates either sits on or swipes his sugary treat while he's doing a vocal take. Also, his song-opening admonition to "Turn it up!" apparently wasn't a call to arms for Southern rock fans, but rather was directed at an engineer when Van Zant wasn't getting enough sound through his headphones.
The Who, "Eminence Front"
From: It's Hard (1982)
Mistake: Inadvertent stutter
Roger Daltrey rose to fame behind a stuttering performance on "My Generation," but the bad timing on the chorus of the Who's "Eminence Front" was a different matter entirely. Pete Townshend enters a syllable behind Daltrey at roughly the 2:38 mark, then they appear to sing two different things – both "behind an" and "it's an" – before "eminence front." Engineers attempted to fix it for future reissues, but the best-known version of the song remains the one with the quite obvious fluff.
The Beatles, "A Day in the Life"
From: Sgt. Pepper's Lonely Hearts Club Band (1967)
Mistake: Squeaky shoe
Sessions for the Beatles' "A Day in the Life" were complicated enough as it was. After all, the album-closing track on 1967's Sgt. Pepper's Lonely Hearts Club Band married two musical ideas from John Lennon and Paul McCartney; the song was later completed with a sprawling 40-piece orchestral performance. Then Ringo Starr inadvertently made things way more interesting. "On one of the overdubs, Ringo shifted position very slightly at the very end, causing his shoe to squeak," engineer Geoff Emerick wrote in Here, There and Everywhere. "This happened, of course, just when the sound of a pin dropping could be heard! A cross Paul shot him a sideways glance, and from the look on his face, I could tell Ringo was mortified. If you listen quite closely to the song just as the sound is fading away, you can hear it clearly, especially on the CD version, where there is no surface noise to mask it." Elsewhere, you can hear someone exclaim "fucking hell" at about the three-minute mark during "Hey Jude." McCartney also laughs while singing "Maxwell's Silver Hammer" supposedly because Lennon mooned him in the studio.
Van Halen, "Everybody Wants Some"
From: Women and Children First (1980)
Mistake: Forgotten lyrics
Any regular concertgoer has heard their favorite band whiff on a lyric while onstage. It's rare, however, that such a thing gets preserved forever on a studio album. That's just what happened during the loose sessions for Van Halen's 1980 album Women and Children First. While tracking "Everybody Wants Some," David Lee Roth was apparently supposed to sing something that resembled "I've seen a lot of people take a ride on a moonbeam," but he forgot the line. Roth copped to completely making up the next jumble of sounds to come out of his mouth – "Ya take a moople-ah, wookie pah-a moopie," maybe? – as part of his autobiography, Crazy From the Heat. He also comes in early at 3:34, tries to sing "I like ... " but is cut off by Eddie Van Halen.
Led Zeppelin, "Black Country Woman"
From: Physical Graffiti (1975)
Mistake: In a flight pattern
Yes, that's an airplane going overhead as Led Zeppelin begins performing "Black Country Woman." We also hear John Paul Jones noting its noisy presence. And Robert Plant brushing such concerns aside, saying "Nah, leave it." The song was recorded in a back garden in 1972, which also apparently led to a duck attack while Plant was trying to nail down the vocal for a different song. Elsewhere, John Bonham was apparently helpless to stifle a cough while Plant gamely wailed away on "In My Time of Dying." "Won't you make it my dying, dying ... " Plant sings before Bonzo lets loose. That was par for the course on this project. "We were just having such a wonderful time," Jimmy Page told Uncut in 2008. "Look, we had a framework for 'In My Time Of Dying,' okay? But then it just takes off and we're just doing what Led Zeppelin do. We're jamming. We're having a ball. We are playing."
The Velvet Underground, "Heroin"
From: The Velvet Underground & Nico (1967)
Mistake: One member quit
As the din of the Velvet Underground's "Heroin" rose up around drummer Maureen Tucker, she finally just stopped playing. She reportedly couldn't hear anything, and figured the take was burning itself out. Instead, her bandmates kept going, leaving a noticeable spot around 6:20 when Tucker's drums completely disappear. A few seconds later, she then rejoined the proceedings. "'Heroin' drives me nuts. That's such a good song. I remember getting chills whenever we played it, and to listen to it on the album, it's really depressing," Tucker told What Goes On in 1990. "I was saying, 'This is no good, this isn't gonna work; we need phones or something.' So, I stopped, and being a little wacky, they just kept going – and that's the one we took. And it's infuriating because you've seen us live, that's a bitch, that song. I consider that our greatest triumph."
Steely Dan, "Aja"
From: Aja (1977)
Mistake: Misplaced stick
That one-take Steve Gadd solo on Steely Dan's "Aja" is the stuff of legend. There's one moment at the 4:47 mark, however, that he'd rather you not copy. That's when Gadd's stick slipped and tapped the rim of his drum. It's perfectly timed, and certainly fits into a performance where every part of his solo feels purposeful – but, in this case, it was not. The song was completed with a fiery call-and-response with saxophonist Wayne Shorter, but that was recorded later over already completed parts. The results were as big a surprise to Gadd as they were to everyone else.
Metallica, "Master of Puppets"
From: Master of Puppets (1986)
Mistake: Muffed note
Kirk Hammett hit a wrong note during the solo for the title track for Metallica's 1986 album Master of Puppets, giving new life to the lyric "I'm pulling your strings." Seems he somehow pulled one off the fretboard while recording, creating a one-of-a-kind – and completely unrepeatable – mistake. "You know how you take an E string, you pull it down toward the floor away from the neck?" Hammett told Guitar World in 2002. "I accidentally pulled down on the string, and it fretted out on the side of the fretboard. We heard it back, and I was like, 'That's brilliant! We've gotta keep that!' Of course, I've never been able to reproduce that since; it was like a magic moment that was captured on tape."
The B-52's, "Love Shack"
From: Cosmic Thing (1989)
Mistake: Missed cue
Part of the fun of the B-52's hit "Love Shack" is joining in with Cindy Wilson's a cappella "tin roof, rusted!" Thing is, that was a mistake. Bandmate Kate Pierson says Wilson missed a cue as the group ran through the track, and she ended up singing before the rest of the group returned. True to form, the B-52's loved how offbeat and kooky it sounded, so they left the flub in. "All of a sudden the tape stopped and I'm still jamming, you know?" Wilson told Valerie Simadis in 2017. "And they recorded it 'cause we had to record all the jams so we could go back and listen to it. And so we just laughed. It was a great ending."
The Police, "Roxanne"
From: Outlandos d'Amour (1978)
Mistake: Piano mishap
"Roxanne" didn't do much upon release in the U.K., but it helped break the Police in America. And it all began with an atonal burst of piano at roughly the 0:04 second mark, then a burst of laughter. Turns out, that's exactly what it sounds like: a huge mistake. Sting went to sit on a nearby piano at Surrey Sound Studios, unaware that the lid was up. The result was this burst of butt-produced dissonance.
Pearl Jam, "Rearviewmirror"
From: Vs. (1993)
Mistake: Temper tantrum
You can actually hear Dave Abbruzzese throw his drum sticks against the wall during the ending of "Rearviewmirror" from Pearl Jam's second album. This was apparently "in response to the pressure that was placed on him by producer Brendan O'Brien during the recording of the track," according to Kim Neely's Five Against One: The Pearl Jam Story. It got worse: A still clearly frustrated Abbruzzese later reportedly shoved a fist through a snare drum, then threw it over a cliff. He and the band split after 1994's Vitalogy.
Emerson Lake and Palmer, "The Sheriff"
From: Trilogy (1973)
Mistake: Stray curse word
Carl Palmer takes his work very seriously, as made clear during "The Sheriff" He makes an obvious mistake during a solo intro, tapping the rim of his tom, and unleashes an audible lament: "Shit!" Later, and this admittedly may not be related, Palmer switches to woodblocks while Keith Emerson ends things with a honky tonk-styled piano solo. Leaving Palmer's exclamation provided a moment of winking fun totally in keeping with this song's general sense of conviviality. "The Sheriff" and other songs like "Benny the Bouncer" and "Jeremy Bender" underscored Emerson Lake and Palmer's propensity for humor, a rarity in prog that helped balanced their deeper conceptual elements.
Eric Clapton, "Key to the Highway"
From: Layla and Other Assorted Love Songs (1970)
Mistake: Forgot to hit the record button
Derek and the Dominoes' take on "Key to the Highway" fades in because it grew out of an impromptu jam between Eric Clapton and Duane Allman – and nobody was taping it. When the sound engineer finally realized something magical was happening, they were already several bars in. He hit the "record" button, but producer Tom Dowd was forced to improvise in order for it to make the finished album. Clapton and Allman were supposedly inspired to update the Big Bill Broonzy favorite because someone else in a nearby space at Criteria Studios in Miami was heard playing it. That person? Sam Samudio, better known as Sam the Sham.
Joe Satriani, "Surfing With the Alien"
From: Surfing With the Alien (1987)
Mistake: Broken piece of equipment
Joe Satriani's otherworldly lead guitar on the title track from Surfing With the Alien was achieved by combining a wah-wah pedal and a harmonizer. He nailed the tone, if not the take, early on but was forced to keep it all when the harmonizer subsequently failed. Satriani said they were never able to recreate this sound again. "We recorded the melody and the solo in about a half-hour and sat back and went, 'Whoa! This is a song, man!'" he told Guitar World in 2008. Then the harmonizer broke down. "When we finally got it working again, we weren't able to recreate the original effect. It just sounded different. So, rather than screw up a wonderful-sounding performance that may have had a couple of glitches, we decided to just leave it, because it was just swinging."
The Beach Boys, "Here Today"
From: Pet Sounds (1966)
Mistake: Overheard conversation
The Beach Boys would become well-known for leaving in mistakes on their early records. Even their masterpiece wasn't spared. During the instrumental portion of "Here Today," singer Bruce Johnston and a photographer can be heard discussing a camera Johnston bought in Japan. Then Brian Wilson says, "Top, please" to the engineer. It's believed the chatter wasn't caught because they only had one session to mix it due to Capitol's impatience with the long-overdue album. The mistake can only be heard on the original mono release; it was removed when Pet Sounds was mixed in stereo for a 1996 box set.
Why These Classic Rock Acts Hate Their Own Records
Over a lengthy career, certain pitfalls also present themselves: Band members leave, songs become one-hit wonders, sounds go out of style. Then you start to hate your own records.
Gallery Credit: Nick DeRiso
The Rock Supergroups You Totally Forgot