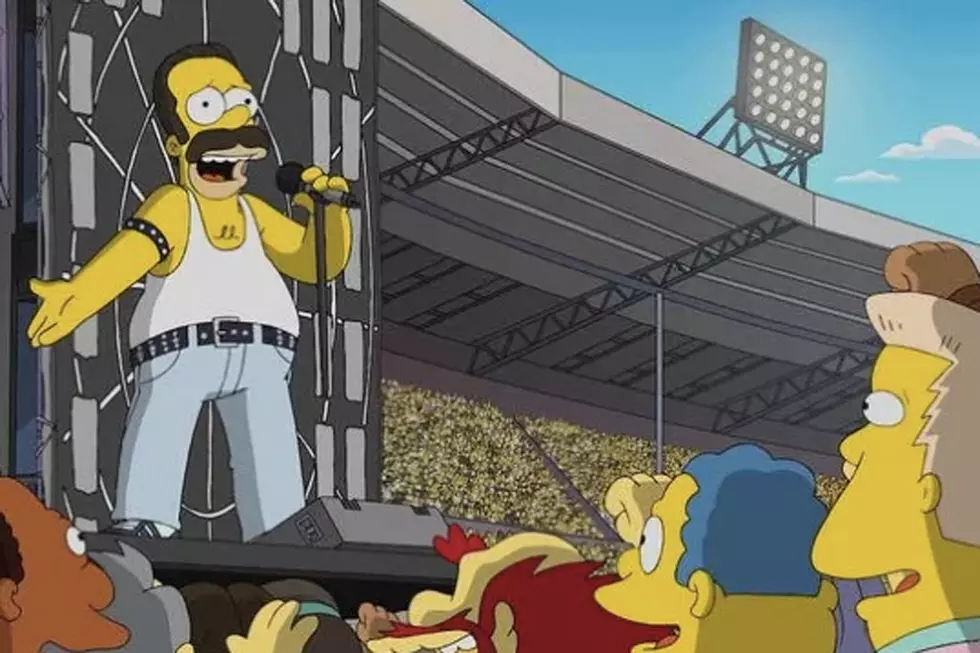 'The Simpsons' to Recreate Queen's 'Live Aid' Performance
Fox
Blabbermouth posted the news, along with a promotional shot of Homer Simpson dressed as Freddie Mercury was on that day singing before a stadium full of people, including Simpsons recurring characters Groundskeeper Willie, Moe, Carl and Ranier Wolfcastle. Queen guitarist Brian May subsequently posted a link to the story on his social media channels. The original Live Aid performance was recreated in the hit biopic Bohemian Rhapsody, with the entire 22-minute set being shot in one take.
The episode is titled "Go Big or Go Homer," and TV Guide's synopsis describes the plot as "Homer is demoted to supervising interns, among whom is go-getter millennial Mike, a 35-year-old who asks Homer to be his mentor. However, when Homer inspires Mike to start a business of his own, the two find themselves being chased by the mob."
How that puts Homer in costume as Mercury is anyone's guess, but it's the latest Queen reference in a line of them that goes back to The Simpsons' second season, with Homer singing a singularized version of "We Are the Champions" after catching a giant fish. Homer and friends later drunkenly sang the same song in the showers of the elementary school following a baseball victory in Season 10's "Wild Barts Can't Be Broken." Homer, Lenny and Carl also sang "We Will Rock You" in Season 18's "Please Homer, Don't Hammer 'Em."
Queen have also been mentioned a few other times in the show's history. In "Three Gays of the Condo" from Season 14, Homer suggests to "Weird Al" Yankovic that he write a pizza-themed Queen parody called "Another One Bites the Crust." In "My Fare Lady" from Season 26, a clean-shaven nuclear regulator says that the reason why he's wearing a mustache in his badge is because, "I was Freddie Mercury in a Queen cover band, but then I got demoted to Brian May." In Season 4's "Duffless," Homer moans over his attempt at a month of sobriety by singing "It Was a Very Good Beer," where he recalls purchasing his first beer with a fake ID and staying up all night listening to Queen.
But only once has the show used Queen's music. In "Moe Baby Blues," also from Season 14, a photo montage of Homer, Maggie and Moe going on adventures was seen over the strains of "You're My Best Friend."
The Best Song From Every Queen Album