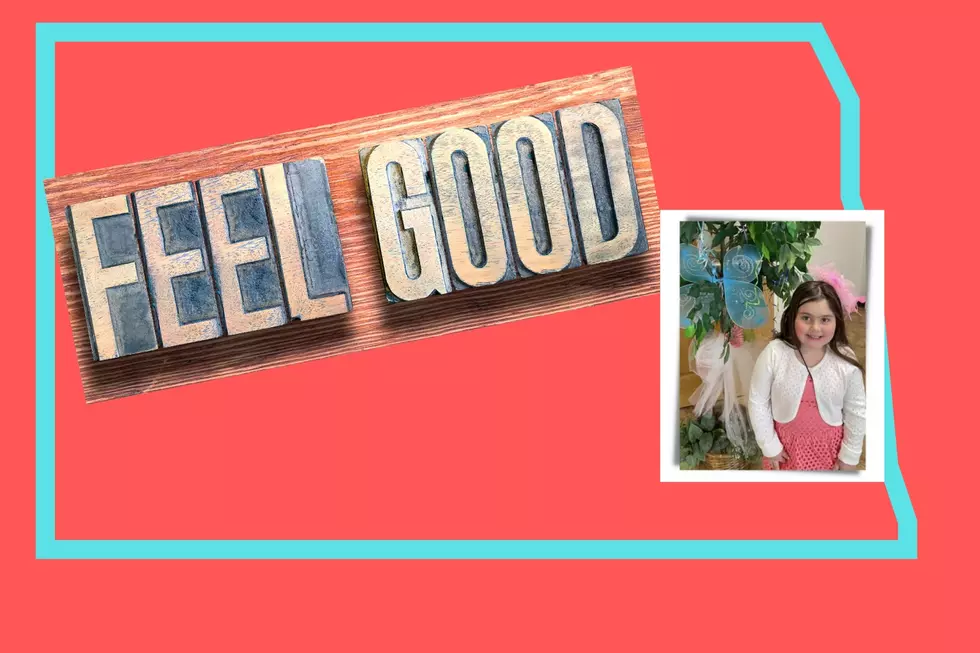 Amazing Support From Near & Far Happened At North Dakota Benefit
PC: Megan Thompson, CANVA
Sometimes one wonders how much a story can touch another. In this case, as a community rallied around a very special girl, her story reached the hearts of North Dakotans and far beyond. In fact, the attention of some very well-known, household, award-winning music artists and idols. KEEP READING! Unbelievable support!
HARPER WETZEL
Meet Harper Wetzel, a wonderful 7-year-old that attends Glen Ullin Elementary School. Harper was recently diagnosed in October with craniopharyngioma. Craniopharyngioma is a brain tumor that is near the pituitary gland. There are only 100 people per year diagnosed with this specific tumor. Harper is the daughter of Jesse and Kari Bilman (Glen Ullin). Her Grandparents are Russ and Pam (Schantz) Walter (Dickinson), Kevin Billman (Colorado) and Clarence and Beatrice Wetzel (New Salem). The Basket, Silent, AND LIVE Auctions took place on a special evening during the A Night To Benefit Harper. The proceeds will go to aid in defraying the medical costs for Harper Wetzel of Glen Ullin, North Dakota who is battling a brain tumor.
---
The story of sweet Harper Wetzel touched the hearts of a new local charity, The Garret Houghton Good Foundation. Their mission is to raise money to help those impacted by medical tragedies or other life-altering events. This amazing new organization from right here in the 701 donated a whopping $20,000.00 to help Harper on her medical journey.
---
AND That's not all!!! There were hundreds of donated items that were auctioned off throughout the special night held in Glen Ullin in honor of Harper Wetzel. All this paired with the musical talents of Gwen Sebastian, The Blue Stems and The Queen City Band.
GUITARS
1. Squier by Fender Telecaster guitar autographed by Lynyrd Skynyrd. 
SOLD FOR: $4,600!
---
2. Epiphone Acoustic guitar autographed by Miranda Lambert.
SOLD FOR: $1,000
---
MORE ITEMS
Autographed Tee Shirt & Miranda Lambert "Palomino" Album.
Autographed T-Shirt by Country Artist, Easton Corbin
36" Traeger Grill/ Smoker donated by the Glen Ullin Motorcycle Club
36" Blackstone Grill donated by The Hebron Gun Club
HUNT: 1 day Pheasant Hunt for 2 (TWO)! Donated by Lance Miller
Bicycles
Artwork
Massages, Auto Services, Carwash, etc... Services.
Gift Baskets: The sky is the limit.
ENTERTAINMENT
Attendees were treated to musical performances LIVE by: Gwen Sebastian, The Blue Stems & the Queen City Band. This included special times when Gwen Sebastian was accompanied by her mother, Deb Sebastian (and great aunt) to Harper Wetzel.
SPECIAL VIDEO
Take a watch, you will find special wishes fo Harper from country music stars Miranda Lambert, Lynyrd Skynyrd, and Little Big Town.
We wish Harper Wetzel well and are inspired to help others when the need calls.
North Dakotans And Minnesotans That LOVE THE SNOW!
There are MinneDakotans that love the snow perhaps too much.
10 Weird Titles That Beloved Movies Almost Used
These iconic films almost had some not-so-iconic titles.