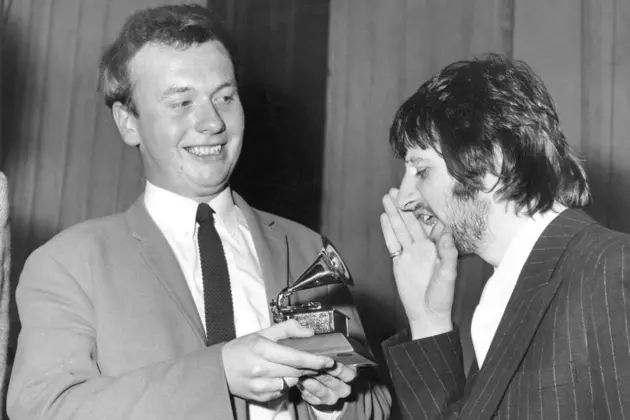 Beatles Engineer Geoff Emerick Dies at 72
Monti Spry, Central Press, Hulton Archive, Getty Images
Geoff Emerick, who was the chief recording engineer on some of the Beatles' most significant albums, has died at the age of 72, his manager reported.
Emerick's relationship with the Fab Four began in his teenage years, soon after he'd been apprenticed at Abbey Road Studios in London. He went on to win two Grammys for his work with the band.
"Today at around 2'o'clock, I was making my way back from Arizona to Los Angeles to pick up Geoff so we could transport some gold records and platinum plaques to our show in Tucson," manager William Zabaleta told Variety. "While on the phone, he had complications and dropped the phone. I called 911, but by the time they got there, it was too late. Geoff suffered from heart problems for a long time and had a pacemaker. … When it's your time, it's your time. We lost a legend, and a best friend to me, and a mentor."
Emerick developed a reputation for his unconventional approach to recording, which contributed to the studio sound achieved by the Beatles and producer George Martin. Along with the early songs "Love Me Do" and "I Want to Hold Your Hand," in his promoted position he also worked on Revolver, Sgt. Pepper's Lonely Hearts Club Band, the White Album and Abbey Road.
"I was dropped into the deep end of the pond. I was mastering American records for the U.K. market one day, and the next day, when I was around 19, I was working on Revolver," Emerick told Variety last year. "We [engineers] worked in the No. 2 control booth at Abbey Road, which is upstairs, which meant the band worked as if we weren't there. So we were part of the most amazing process, observing songs in the process of creation. … With the luxury of time, we could start building ideas about the mood of the songs and each instrument, the tonalities, the dominant colors."
He cited his work on "A Day in the Life" as a high point of his career, noting that "the night we put the orchestra on it, the whole world went from black and white to color."
"Geoff was a brilliant engineer and a fine man," Wings guitarist Denny Laine said on Facebook, while the Beatles' Twitter account paid tribute to Emerick, noting his "work as audio engineer on their music was integral."
Rockers We've Lost in 2018