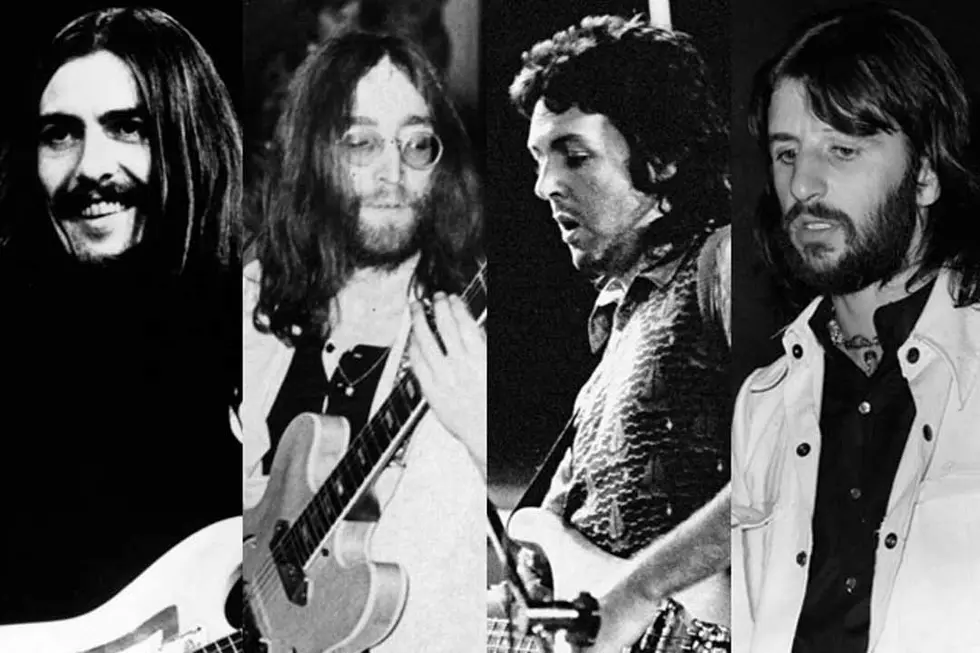 When the Beatles' Solo Singles All Hit the Charts
Keystone / Evening Standard / Jack Kay / Hulton Archive, Getty Images
For the week of April 24, 1971, Harrison's "What Is Life," Lennon's "Power to the People" and McCartney's "Another Day" all made the list. Harrison dropped from the chart the following week, May 1, but Starr's "It Don't Come Easy" made its first appearance.
Here is a look back at the songs that made the charts together in the spring of 1971:
Listen to Paul McCartney's 'Another Day'
"Another Day" was McCartney's first post-Beatles single. Like "Eleanor Rigby," it told the story of a lonely woman living a tedious life. A co-writing credit was given to McCartney's wife Linda, but the song was conceived during the Beatles' Let It Be sessions.
"Another Day" was recorded in 1970 during the Ram sessions, but was left off the album. McCartney explained in MusicRadar why his early albums often included acoustic guitar songs like "Another Day."
"When I worked with the Beatles there were at least two guitars, and when I played there were three. We would often play a song through on acoustic, and sometimes we'd develop it from there on electric – or sometimes we just kind of liked it where it was, and it stayed acoustic. On those early solo albums I didn't have the guys I developed things up with – John and George – and so things often remained acoustic. Of course," he added with a laugh, "I also liked how it sounded."
Listen to John Lennon's 'Power to the People'
Lennon had long been the most socially conscious of the Beatles. He advocated non-violent change in songs like "Revolution." In January 1971, Lennon granted an interview to writers from the Red Mole, a Marxist newspaper that advocated direct action over peaceful protests. Lennon agreed with them, and the next day began writing "Power to the People."
Its lyrics even recalled an earlier song, "Revolution": "Say you want a revolution / We better get it on right away / Well you get on your feet / And into the street / Singing power to the people." Lennon later regretted the message of "Power to the People."
"We'd got a bit of a reputation for hanging out with the Cambridge Graduate School of Revolutionaries in the U.K.," Lennon wrote in Skywriting by Word of Mouth. "They made us feel so guilty about not hating everyone who wasn't poor that I even wrote and recorded the rather embarrassing 'Power to the People' 10 years too late."
Listen to George Harrison's 'What Is Life'
Harrison produced That's the Way God Planned It, an album by his friend Billy Preston, in 1969 when he was still a member of the Beatles. Harrison wrote a song while driving to the studio one day that he thought would be a good fit for the keyboardist. "'What Is Life' was written for Billy Preston," Harrison wrote in I Me Mine. "I wrote it very quickly, 15 minutes or half an hour maybe, on my way to Olympic Studios, London, when I was producing one of his albums. Because of the situation at the session, it seemed too difficult to go in there and say 'Hey I wrote this catchy pop song,' while Billy was playing his funky stuff."
Harrison also decided not to offer the song to the Beatles, who were recording Abbey Road. Instead, Harrison included "What Is Life" on his debut LP, All Things Must Pass. It was the second single released from the album, the follow-up to the monster hit "My Sweet Lord."
Listen to Ringo Starr's 'It Don't Come Easy'
Starr's "It Don't Come Easy" was a huge commercial success, besting McCartney's "Another Day" and Lennon's "Power to the People" in record sales. Its working title was "You Gotta Pay Your Dues." The February 1970 session was produced by George Martin. Starr was backed by Harrison on acoustic guitar, Stephen Stills on piano and Klaus Voormann on bass.
Although Starr received writing credit, he admitted that Harrison was a great help on "It Don't Come Easy." "George was my good friend," Starr told radio's Jody Denberg. "And I was very good at two verses and a chorus. And then I would take it over to George's [...] and he finished 'It Don't Come Easy.' And also, you know, I'm not the best guitarist in the world. I have to admit that. I might be a great drummer, but I'm not the best guitarist. And so he would put in all these chords that made me sound like a genius and tie the song up."
Beatles Solo Albums Ranked