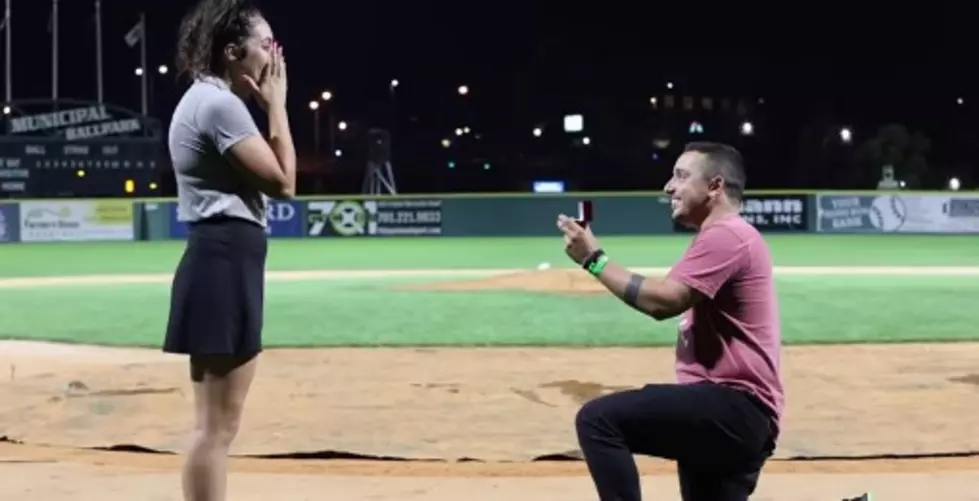 Bismarck's Perfect Proposal – An Emotional "Yes" Kicks Off Fireworks
Carson Henry
If you were lucky enough to be at Municipal Ballpark this last Saturday night you were blessed to be a part of something that even Hollywood couldn't do better
Her name is Monica Blake, she has been with the Bismarck Larks for four seasons, in that span she also aided in the Bismarck Marathon, the Mandan Rodeo, and other community events. She's smart, experienced.. has tremendous people skills, and like 100% of all the people who work in the Bismarck Larks organization,  she cares about her city. Unfortunately for us, she's moving to Minot.
A golden opportunity for Monica
The Magic city is joining the Northwoods League, therefore their new team requires a general manager, and this is where Monica comes in. On October 1st she will begin her first day, and she couldn't be more excited  - "I'm so grateful to John Bollinger and everyone else from the Larks..." she told me on the phone this morning. I could tell how sincere she was about the experience she gained in the last 4 years, but there was something else that propelled her happiness to the moon.
A magical night
So last Saturday night was an evening of baseball and paying huge respects to a loved employee that was leaving Bismarck. Larks owner John Bollinger brought Monica out onto the field and let the hometown crowd know that she was on her way to Minot very soon, he graciously thanked her for her awesome work. Those in the stands could feel true love, sadness, and excitement for her future. There was one more thing that would make this night perfect.
Dylan
John introduced Monica's boyfriend Dylan, who was off hiding. Out he came with a microphone in one hand, and a ring hidden in his pocket. You could just hear his voice quiver for a second, not out of nervousness, but for the fact that he was seconds away from getting down on one knee and proposing, and he did just that. There was no hesitation, her answer was "Yes", Larks players came running over to surround them, and as the fireworks shot up into the Bismarck sky, Monica and Dylan held onto each other tight. "There wasn't a better way that he could have proposed than right there at home plate at Municipal Ballpark," she said.
I agree one thousand percent - Hollywood eat your heart out, you couldn't have written a better script - 9 pictures are worth a million words!
RANKED: Here are the most popular national parks
To determine the most popular national parks in the United States, 
Stacker
 compiled data from the 
National Park Service
 on the number of recreational visits each site had in 2020. Keep reading to discover the 50 most popular national parks in the United States, in reverse order from #50 to #1. And be sure to check with individuals parks before you visit to find out about ongoing, pandemic-related safety precautions at 
www.nps.gov/coronavirus
.