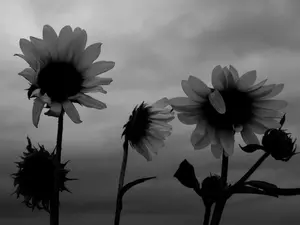 Congrats To Terri Welander Guderjahn.. This week's Cool Photo Winner.
Cool Photo winner
This week's Cool Photo Winner is like past winners, a good photographer that is passionate about photography. 
While this week was pretty competitive with the number of great photos submitted, the depiction of the sunflowers in this piece is pretty unique which is why it was picked as the winner.
Kansas is known as the Sunflower State, but there are a great number of sunflowers in North Dakota. All you need to do is drive down I-94 and you will see the fields upon fields of them.
Terri, who shared that she is a Vikings fan, did a great piece with the black and white version of these sunflowers that seem like they are in the middle of a storm. Judging by the summer we've had so far, I can relate to that.
The choice of hue she used for this, gave it a very realistic view and it worked really well with the imperfections of the sunflowers themselves.
Hopefully, the Vikings can be as artistic in their play calling this year as Terri was in this photo.