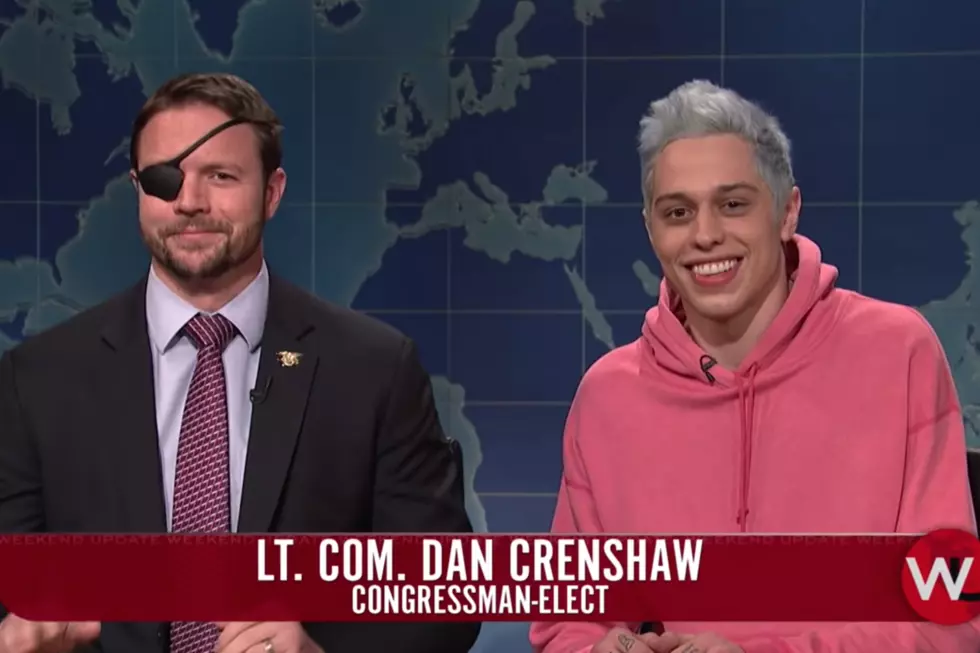 Dan Crenshaw Appeared on 'SNL' to Accept Pete Davidson's Apology
NBC
Last week on Saturday Night Live, Pete Davidson made some ill-advised jokes about Congressional candidate Dan Crenshaw, who lost an eye serving our country in Afghanistan. Davidson's jokes about how Crenshaw looked like "a hitman in a porno movie" because he lost his eye "in war, or whatever" didn't go over well with anyone — even Davidson's fellow SNL cast member Kenan Thompson said he missed the mark.
What a difference a week makes. Last night on SNL, Davidson appeared on Weekend Update and this time he apologized for his remarks. And Crenshaw himself was on hand to accept Davidson's apology. (And oh by the way, he won his election in the interim, and will become the new Congressman for Texas' 2nd District — so that's Congressman-Elect Crenshaw to you.) Good sport that he is, Crenshaw also got in some good pokes at Davidson, including having his phone "accidentally" go off during the segment with a ringtone by Davidson' ex-fiancé Ariana Grande. And he turned the tables on Davidson, getting to poke fun at his appearance saying "he looks like a Troll doll with a tapeworm." Sick burn, Congressman.
You can watch the footage yourself above, but in my eyes, Davidson appeared sincerely contrite. He screwed up, and he knew it. And I liked that after he had some fun, Crenshaw left the viewers with a message about what really matters: "Americans can forgive one another. We can remember what brings us together as a country and still see the good in each other." Amen.
Gallery - The Weirdest DVD and Blu-ray Box Sets of All Time: