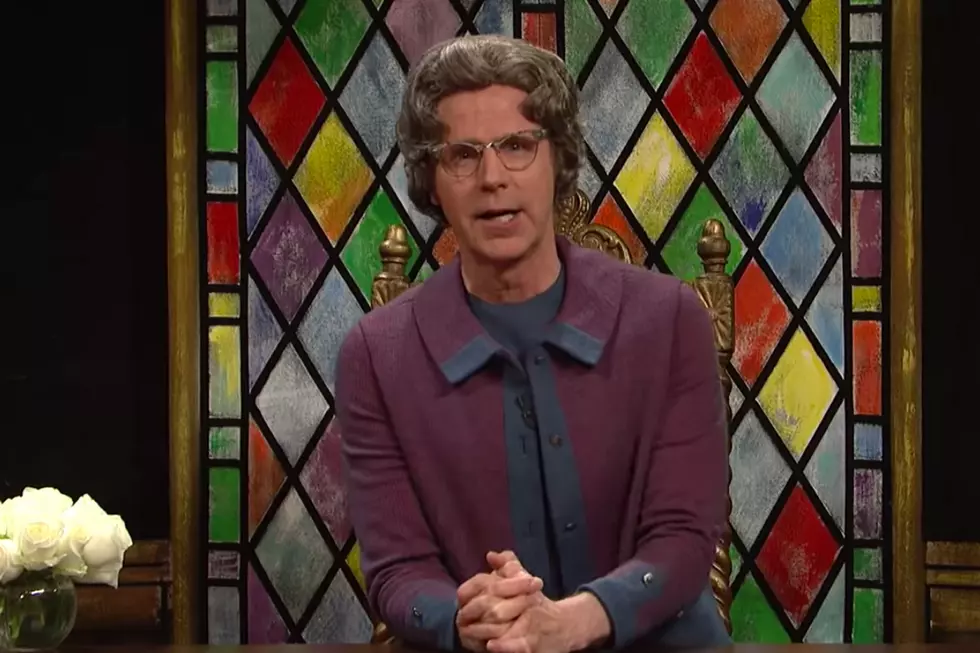 When Dana Carvey Debuted the Church Lady on 'Saturday Night Live'
NBC
Few actors have made as memorable of a first impression on Saturday Night Live as Dana Carvey did on Oct. 11, 1986. That night, the opening episode of Season 12, he debuted Enid Strict, also known as the Church Lady.
As writer Rosie Shuster remembered in Tom Shales' oral history Live From New York: The Complete, Uncensored History of Saturday Night Live, Carvey had the character perfected even before he got the job. "Dana's audition tape was the most amazing audition tape I've ever seen," she said, "because he nailed impressions and pushed them to this surreal place but he also did these amazingly absurd, highly original characters like the chopping broccoli guy [Derek Stephens]. I especially responded to this rudimentary version of the Church Lady. The smug superior attitude was there. And the consummately couchy 'Isn't that special?'"
Shuster and Carvey, a veteran stand-up with a few acting credits but no experience in sketch comedy, found a format for his creation, as the host of television program called Church Chat. It did so well in rehearsals that it was moved from the last sketch of the night, what Carvey called the "dumping ground," to a prime spot. It started to weigh heavily on Carvey, who had another major showcase as Stephens later in the night.
"I had this chopping broccoli thing, and then the show was sort of on my shoulders for some reason," he told Shales, "and I felt just intense pressure. I would essentially cry in my dressing room. I'm emotional. And then I was swearing at myself in the mirror."
Carvey needn't have worried. The bit went as well on air as it did in rehearsals. The Church Lady interviewed playwright Christopher Durang -- who appeared in the monologue with host Sigourney Weaver -- actress Sally Kellerman (Jan Hooks), advice columnist Ann Landers (Nora Dunn) and Weaver, reprising her Ghostbusters character Dana, but when she was possessed by Zuul.
The Church Lady became an immediate hit thanks to catchphrases like "How convenient," "Well, isn't that special?" and "Could it be ... SATAN?" as well as her own dance. Shuster had a theory on why Strict was such a successful character. "The Church Lady would project her filthy erotomaniac imagination all over the poor hapless guest, whoever they were," she added. "She would basically verbally slime them with her own repressed garbage and then she'd go to town shaming them. She had a black belt in shaming. And then she'd coyly suggest their behavior was the work of Satan."
The Church Lady would make 18 more appearances over the next four years, and Carvey stayed on SNL through the 1993 season. He also brought back the character five times after his departure, three when he hosted the show and twice in 2016 as a cameo.
Season 12 was the second after Lorne Michaels returned to SNL, and the start of a new golden era for the show. In addition to Carvey and Hooks, the show marked the debuts of Kevin Nealon, Victoria Jackson and Phil Hartman.
Rock's 60 Biggest 'Saturday Night Live Musical Moments