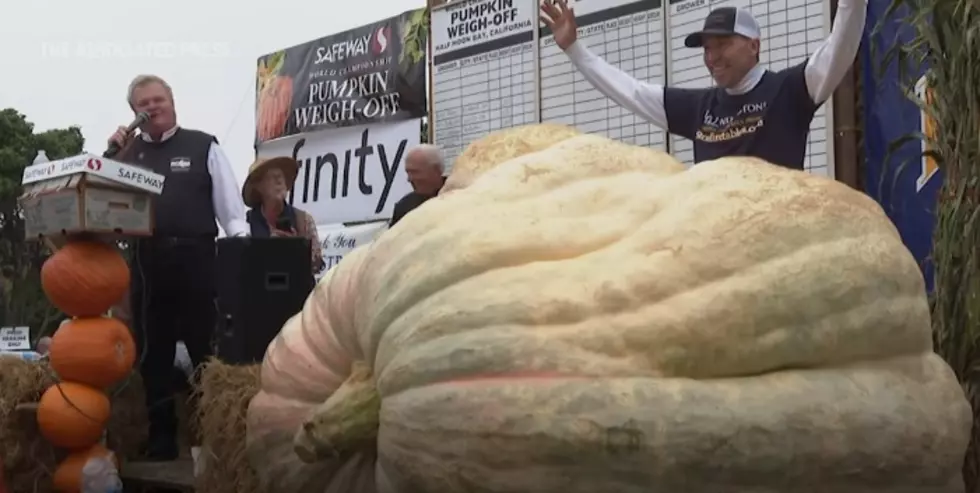 How Many Minnesotans Will It Take To Carve This Pumpkin?
Facebook Watch
The month of October brings many awesome things...
... a change of weather with more leaves falling off the trees, bags of candy begin accumulating in stores everywhere ready for trick or treat...AND families start to get excited about tradition - which of course includes the colors orange and brown, and THE one thing ( in my opinion ) that best represents Halloween - that would be the pumpkin. Just last week I went over to a co-worker's house for a get-together and their whole front yard was strategically set up with pumpkins of all sizes. They all were carved with great care with each one showing a different personality, smile, and charm. I mentioned the sizes earlier, sure they varied, but wait till you see Maverick!
There is a man in Anoka, Minnesota who stands tall, next to his record-holding buddy
Just last week a couple of Minnesotans spent some time out in California. Was it a family trip to catch up with some distant relatives? Not at all, this was a determined attempt to break a record. Travis Gienger and his pal Maverick showed up at Half Moon Bay. With a confident smile, Geinger watched as Maverick was placed on a scale..and just like that his buddy, a PUMPKIN, shattered the North American record - Maverick weighed in at 2,560 pounds, and was a clear-cut winner of the 2022 World Championship Pumpkin Weigh-Off. Travis and Mav fell short of the World Record, which is held by Stefano Cutrupi with a pumpkin weighing in at 2,703 lbs at a 2021 weigh-off in Italy!
No stranger to this competition
Travis came in prepared and knew what he was going for - back in 2020 he won the title with a pumpkin that checked in at 2,350 pounds. I was curious if there was some kind of trophy for first place, and according to abc7news.com "For winning this Championship, Gienger will take home a prize of $9 per pound, adding up to $23,040!"
No word on whether Travis or his whole town will carve Maverick ( Mav had no comment )  Check out these two together:

Facebook Watch
---
LOOK: Baby names that are illegal around the world
Stacker
scoured hundreds of baby name databases and news releases to curate a list of baby names that are illegal somewhere in the world, along with explanations for why they're banned.