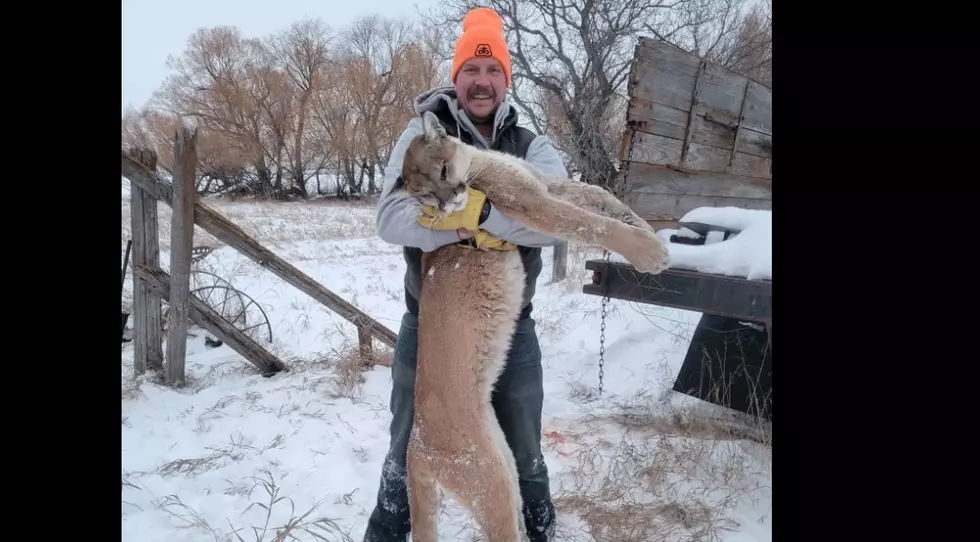 North Dakota Deer & Cat Hunting Story That's Hard To Top
John Bollingberg Facebook Page Screenshot
This was a very difficult season to hunt deer in North Dakota.  With as much as 2 feet of snow on the ground by the 2nd weekend of the season, many hunters said "screw it".
Believe me, I get it.  I've been hunting pheasants during this entire period and it's some of the toughest walking I've ever done in all my years of hunting.  Even this past weekend on the final weekend of deer hunting I saw very few trucks with orange on their dash milling around. Most deer hunters I know put away their rifles in favor of ice fishing gear.
One hunter however has a deer hunting story that's almost more like a fish tale, only it's true.  John Bollingberg of Hamberg, North Dakota was hunting near his farm on Sunday, November 13th (Hamberg is about 40 miles southwest of Devils Lake).
Despite the deep snow, John was able to fill his Whitetail buck tag with a beauty of an animal in the morning.  After that, he decided to track a Mountain Lion he had spotted 100 yards from his mailbox the night before.
He found the tracks again that led him to an old farmstead.  After surveying the area Bollingberg noticed there were no tracks coming out of the area.  He was pretty sure the animal was bedded down near an old grainery.  He took a look underneath and there was the big cat 20 yards away from him.
That's when the blood really started pumping for the hunter.  Bollingberg said the hair on the back of his neck when you're face to face with an apex predator in the wild.  John decided to take the shot and after a short chase through bushes, it was over and Bollingberg had himself two trophy's in one day.
The local game warden came to inspect shortly thereafter and the animal was sent to Bismarck for further testing and evaluation.
Bollinberg calls it a once-in-a-lifetime experience but is not looking forward to the taxidermy bill.  Here are some photos of the experience courtesy of John Bollinberg's Facebook page.
States with the most registered hunters
Stacker
analyzed data from the U.S. Fish and Wildlife Service to determine which states have the most registered hunters. Read on to see how your state ranks on Stacker's list.
Top 11 Most Stunning Waterfowl in North Dakota