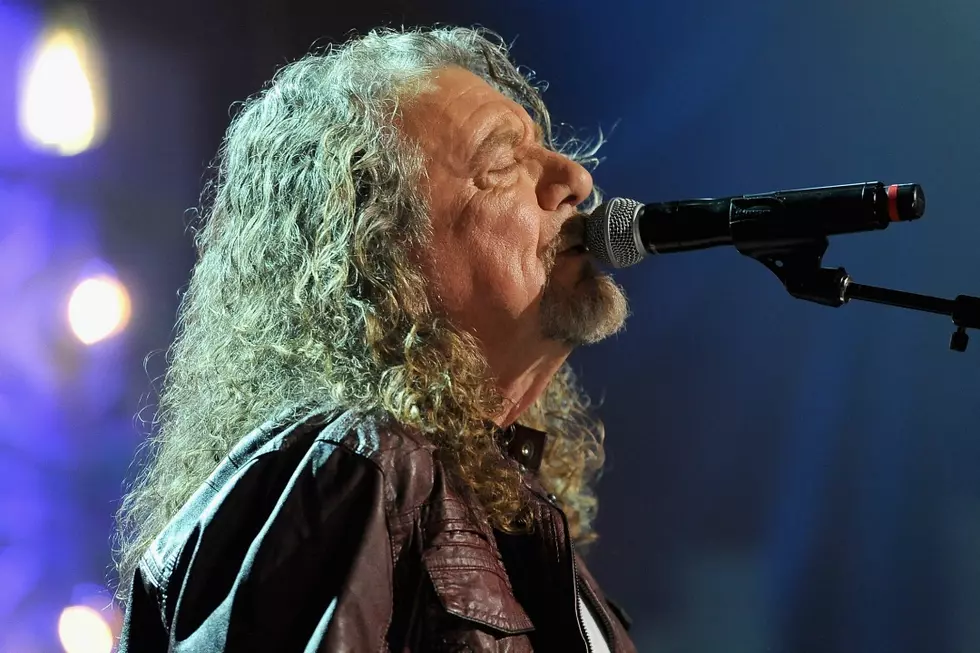 Robert Plant Hints at New Honeydrippers Project
Erika Goldring, Getty Images
Is Robert Plant working on a sequel to his long-dormant Honeydrippers group? A new tweet from him referenced their lone work, 1984's The Honeydrippers: Volume One EP.
The singer posted a picture of himself and Nile Rodgers in a studio with the caption, "Another reunion … Honeydrippers Vol I 1984, Part 2 ... ." Rodgers, the Chic guitar legend with a vast array of session and production credits, played on the original five-track EP.
Plant first assembled the Honeydrippers in 1981 following the breakup of Led Zeppelin. Working with a bunch of musicians he'd known since childhood, they jammed on '50s jump blues and rockabilly tunes, and performed unadvertised gigs in small clubs far away from the London limelight. That lineup ended when Plant began his solo career in earnest with 1982's Pictures at Eleven.
He revived the Honeydrippers name a couple years later at the behest of Atlantic Records president Ahmet Ertegun, who had seen one of those gigs and wanted a new album featuring the classic tunes. But rather than use the journeymen from the earlier tour, Plant brought in Rodgers, guitarists Jeff Beck and Jimmy Page and keyboardist Paul Shaffer.
"Rockin' at Midnight," a Roy Brown song, was chosen as the first single, but DJs preferred the flip side, a lush cover of Phil Phillips' "Sea of Love." The track reached No. 3, Plant's highest-charting song on the Billboard Hot 100, either solo or with Led Zeppelin.
Promises of a full-length album never materialized, so maybe Plant is finally making good on those decades-old plans. Or it could just be a photo of two people who worked together 35 years ago reconnecting in a studio.