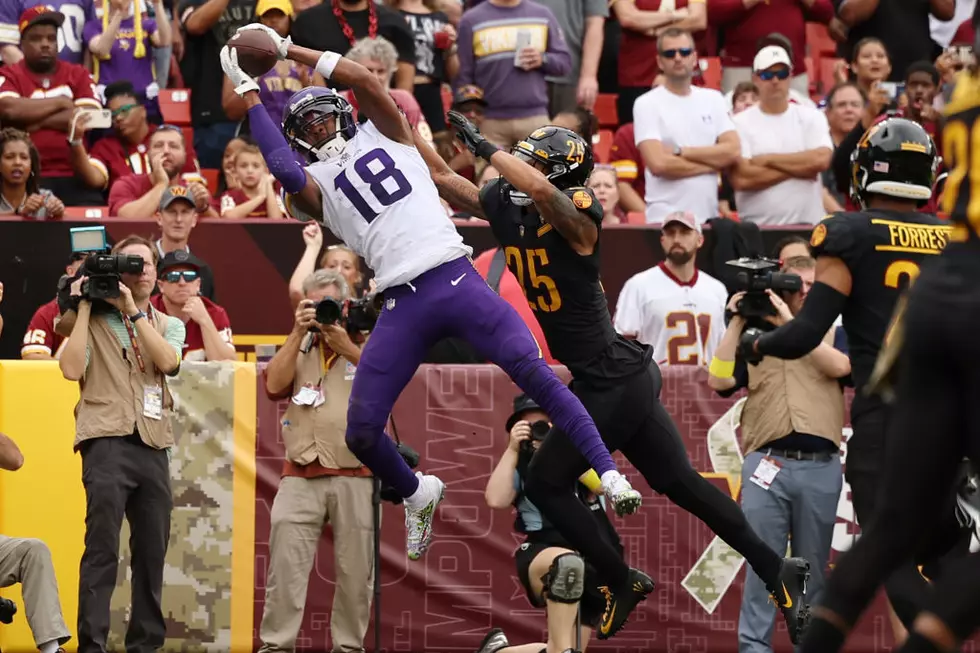 See The Minnesota Vikings "White-Out" Helmets For XMas Eve
Scott Taetsch/Getty Images
It's going to be a "white" Christmas in Minneapolis on Christmas Eve. 
The Minnesota Vikings will unveil their alternate helmets on Saturday, December 24th when they entertain the New York Giants on Christmas Eve at 12 noon.
I hate to be a "Grinch" but I'm not a fan of these helmets.
Talk about plain Jane.  A little purple in the mix would've gone a long way.  I feel the same way about the Cinncinatti Bengals' white-out helmets that they have worn a couple of times this season.
The Minnesota Vikings are also encouraging their fans to wear white for the game as well.
That's right, it's a winter white-out on Christmas Eve when the Vikings and the Giants get together on Christmas Eve. The Vikings of course traditionally wear purple at home. According to reports, the Vikings will not alter their uniforms.  They will instead wear their traditional white uniforms with their white pants trimmed in purple and gold.
Minnesota is trying to hang on to the #2 seed in the NFC.
The Vikings will close out the season at Green Bay and at Chicago after this weekend's home contest with the New York Giants.  The Vikings at the very least are in the playoffs, after missing the postseason the last two seasons.  Minnesota has missed the playoffs the last two seasons.
CHECK THEM OUT: 100 years of Christmas toys, gifts and fads
Most Famous Athletes To Go Pro In North Dakota