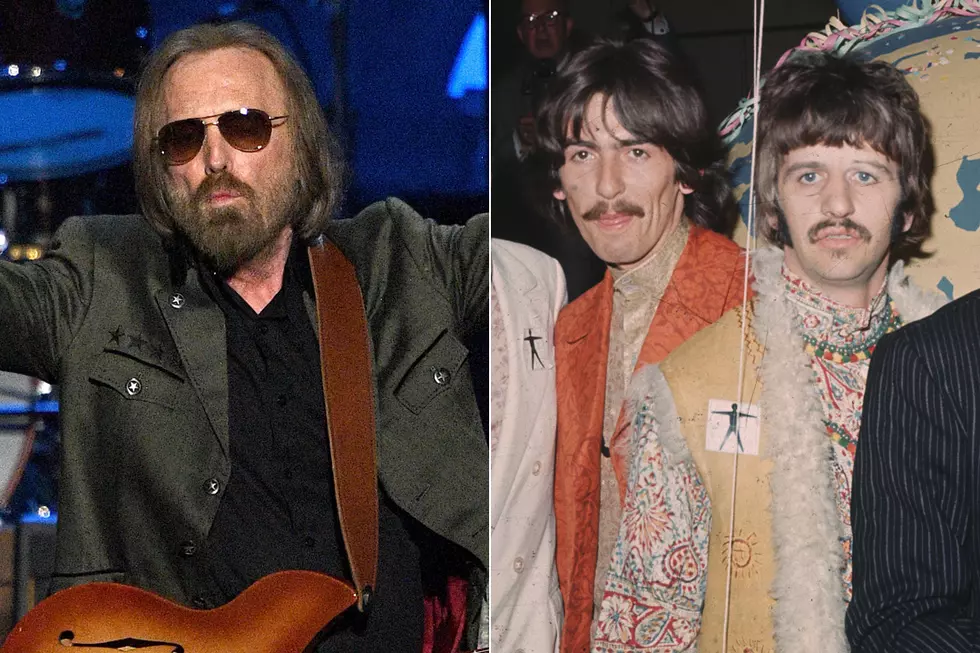 Tom Petty Remembers Meeting George Harrison and Ringo Starr
Kevork Djansezian / Hulton Archive, Getty Images
Last night, Tom Petty was given the MusiCares Person of the Year Award at the organization's annual benefit in Los Angeles. During his acceptance speech, he told a story about the night he met George Harrison and Ringo Starr, which ended up with him getting a lesson in paying your dues.
You can watch the whole speech above, with this story beginning at the 7:40 mark. Petty recalled that he moved to Los Angeles in 1974, when he was signed to Leon Russell's Shelter Records by Denny Cordell. Shortly thereafter, he was hired by Russell to hang out at his home studio to provide lyrics in case the musicians came up with some worthwhile music.
"The first session, in comes George Harrison and Ringo, [legendary session drummer] Jim Keltner," he began. "They didn't need any words, but those cats were so cool, you know. And I found myself, after the session when we were hanging out, I found myself slipping my sunglasses on. Leon said, 'What the hell are you doing with the dark glasses, man?' I said, 'It feels cool, you know, like Jimmy Keltner -- he's got his on.'"
Petty then gave Russell's response. "'Wearing sunglasses at night is an honor you earn,'" he said. "'Lou Adler had Johnny Rivers and the Mamas and Papas before he put them glasses on. Jack Nicholson made really s---ty Boris Karloff movies before he put his glasses on.' Well, I'm putting my glasses on [removes eyeglasses, puts on shades] but I think Leon for that advice."
Tom Petty and the Heartbreakers will begin a 40th anniversary tour -- which he says may be his last major one -- on April 20, with Joe Walsh serving as the opening act for most dates. This includes a stop at Mountain Jam the weekend of June 16-18 at Hunter Mountain in Hunter, N.Y.
Tom Petty Albums Ranked Worst to Best