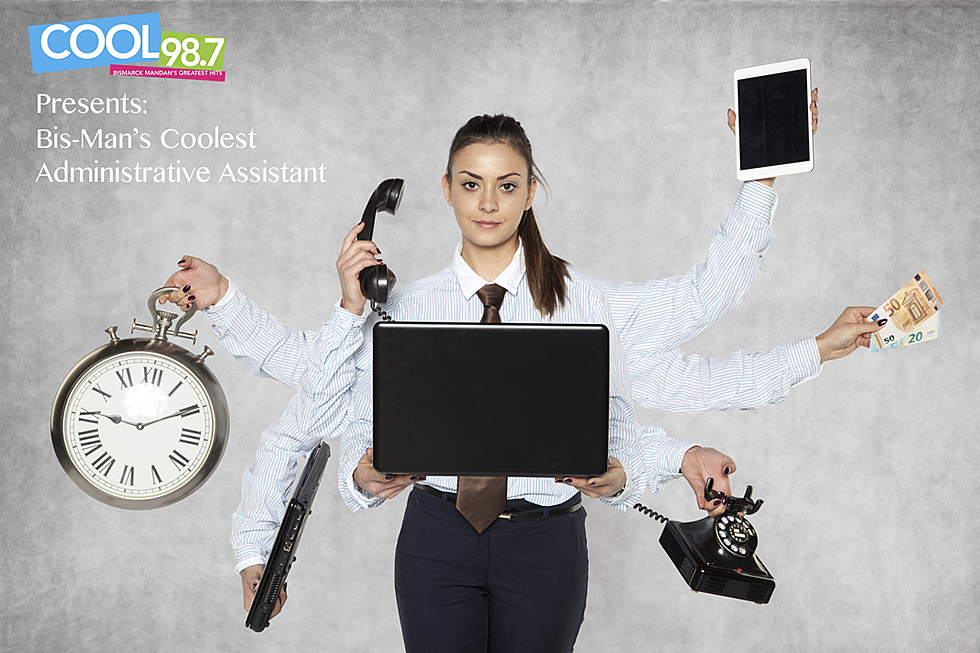 Vote For Bismarck-Mandan's Coolest Administrative Assistant
Getty Images
We asked for you to nominate your favorite administrative assistants, and boy did you guys step up. After receiving tons of nominations, we have narrowed it down to a top 10.
Now the rest is up to you guys! Below we've listed our finalists. Read about each one and then cast your vote. Now the rest is up to you guys! Below we've listed our finalists. Read about each one and then cast your vote.
Karen Baumgartner
Where they work: Schafer Financial
What their coworkers say:

"One word to describe her: sunshine. She is very kind to everyone around her and greets everyone who walks in the door with a smile on her face. She is a hard worker and always has a positive attitude."

Ashley Glass
Where they work: Jerry's Vacuum Center
What their coworkers say:
"Ashley is more than an assistant. She is a one-person sales force and our customers absolutely love her. She is great on the phone when she contacts customers. Ashley does more than required; she stocks products and even can do light repairs. Our business runs better with Ashley. Don't tell her, but I really depend on her."


Karen Heilman
Where they work: Rivers Edge Plumbing
What their coworkers say:
"Karen is a hard working single mom. She works with us in a family owned business and has become one of the family. She often deals with blonde jokes and other kinds of nonsense as we are always giving her a hard time. She is fully capable of dishing it back out to us as well! She always comes to work with a positive attitude and a smile on her face. Our plumbers can be pretty hard on her from time to time, but she does a great job keeping them in line. We couldn't have asked for a better person to join our team and deal with our crazy atmosphere."


Summer King
Where they work: Abused Adult Resource Center
What their coworkers say:
"Summer is simply amazing. She makes every day a joy to come to work for everyone. She is also the first point of contact for victims coming to us seeking our services which is very important. People come to us scared and unsure about what is happening and Summer makes them feel comfortable. She is empathetic, caring, friendly, happy and makes people feel at ease. She also keeps our schedules organized, checks in with people if she feels they are having a bad day and gives out hugs freely. We appreciate EVERYTHING Summer does for AARC and all of the employees daily. She deserves a shout out for being such a one-of-a-kind soul!!"
Kayla Kunkel
Where they work: New Salem/Almont High School
What their coworkers say:
"Kayla has been working at New Salem/Almont High School for eight years. She has two young children ages 3 and 7. She is always on top of things and very involved with the faculty and students. She is the junior class, prom, and student council advisor. She is always willing to stop what she is working on to help others. I feel Kayla would be so deserving of this award to get out and take some time for herself."


Kassie Lutz
Where they work: Chi St. Alexius
What their coworkers say:
"She is very helpful and willing to go out of her way to assist everyone. She's very flexible and friendly."
Kirsten Schadler
Where they work: BNC National Bank - Wealth Management
What their coworkers say:
"Kirsten has been the first voice you hear when calling the Wealth Management department for 17-plus years. Her bubbly personality can brighten anyone's day. The clients look forward to seeing Kirsten's smiling face when they come through the doors. She can sense when anyone needs a pick-me-up and will bring some of her famous baked goods. Kirsten is the backbone of the department; from answering phones, to assisting co-workers with projects or daily work, we know we can depend and rely on her to keep things running smoothly. Our coworkers and clients would love to show Kirsten the gratitude she deserves and this would be an excellent start."
Brittany Schlosser
Where they work: Red Trail Elementary
What their coworkers say:
"Brittany can not be described with words. She has a heart of gold. She is so good with the children and the adults at our school. She will go out of her way to help anyone. She always has a smile on her face and happily welcomes people into our school. She deserves this award so much!"
Tanya Schlosser
Where they work: Mandan Public School
What their coworkers say:
"First I have to start by saying that my husband called me to tell me about this contest and that I should nominate Tanya. I guess even he knows how much I appreciate her.
Tanya is the kind of person that anyone could appreciate. She is the person that goes over and beyond her normal job duties, and she will take on any task that is asked of her with no resistance. She is one that can look outside the box and will take upon herself to do something that I do not even realize has been done until after the fact.
If I am having difficulties getting something done within a certain timeline, she is there asking what she can do to help get it done or to make it easier for me. Tanya makes sure I don't forgetting things because of my busy schedule. If it is something that she can do for me, she will just do it without being asked.

It is never said enough, and I never want to take advantage of her dedication, she is appreciated, she is the best! Most days I really do not know what I would do without her or how I ever got things done when I did not have her beside me. They say a person is only as good as their assistant makes them, this is very true, Tanya makes our program look good, she is the one that should get the credit for all the hard work!"


Judy Smith
Where they work: Charity Lutheran Church
What their coworkers say:

"Judy has been here for 20 years almost. If you have a question, she knows the answer and always has a smile on her face. She always has a good complement for everyone. She is a wonderful lady."

Voting will remain open until 10 a.m. on Tuesday, April 23.