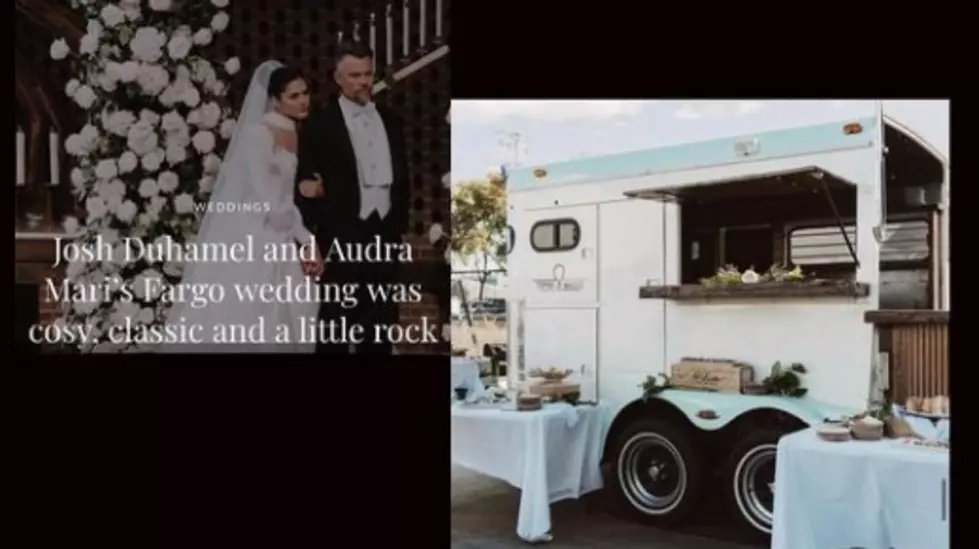 Bismarck's Own Hangs Out With Josh Duhamel & Vogue Magazine
The Tipsy 2Horse Facebook
Not very many people can relate to the title of this article
Although Josh Duhamel is no stranger to Bismarck and North Dakota ( Vogue magazine maybe, BUT not recently! ) - That's right, this charming local mobile bar was a part of Minot, North Dakota natives Josh Duhamel and Audra Mari'd recent wedding ( No they didn't crash it ) and guess what? They made it into Vogue!
The Tipsy 2Horse is flat-out awesome, a perfect way to entertain any event
What a great way to out and about, taking care of everyone and their drinking needs! The Tipsy 2Horse came motoring into business and has been making people happy for years. Such a simple great form of entertainment with charm - a vintage 1978 horse trailer renovated into a full mobile bar experience. They are fully licensed and ready to bring the bar to you for any type of event. So what better way to represent North Dakota than by being invited out to two celebrity natives? Also how many people do you know that have been in a national magazine? We are talking VOGUE! Here is what The Tipsy 2Horse Facebook page just posted recently:
"The Tipsy 2Horse was a guest at Josh Duhamel and Audra Mari's wedding and was cool enough to be photographed and featured in their Vogue photo spread! Now that she's basically a celebrity, is she heading to your wedding next? Email us to book our mobile bar for your event! ndeventdesign@gmail.com"
So listen, you may not be Vogue Magazine, but you can get the same excellent service at your own event.....
......AND maybe Josh and Audra will stop by!
---
LOOK: The oldest cities in America
Though the United States doesn't have as long of a history as some Old World countries, it still has plenty of historical charm.
Stacker
brings you a list of the 50 oldest cities in America.