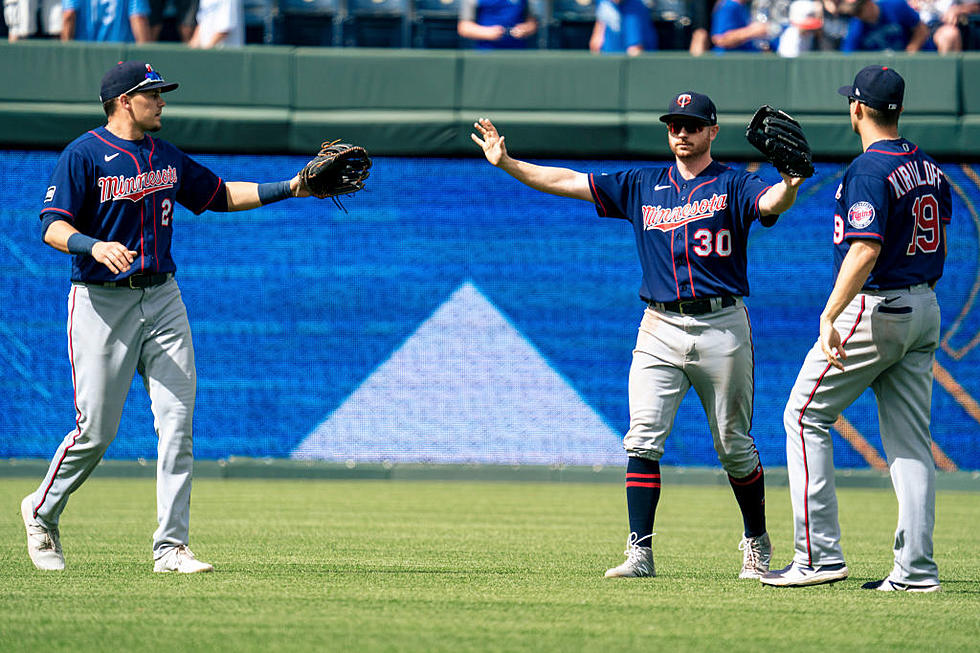 Did You "Catch" The Twins Triple Play Yesterday? (VIDEO)
Kyle Rivas/Getty Images
The Minnesota Twins have won two games in a row, after a 2-1 victory over the Kansas City Royals yesterday.  However, something that had only happened 14 times previously in the history of the Minnesota Twins, also took place.  The Minnesota Twins turned a triple play.  It wasn't a conventional triple play, 3rd to 2nd to 1st, but it was still something to see.
It all started when first baseman Miguel Sano who was charging to cover a bunt, happened to catch the pop fly bunt and doubled up the base runner on 2nd.  The runner on first base was also caught off base to triple up the runners for the Kansas City Royals.  Here's the video to rather unlikely play.
Pretty awesome. Maybe this is something that can help propel the Twins back into playoff contention.  It was defiantly a good day for the Minnesota Twins first baseman Miguel Sano, as he also had an RBI double in the 3rd inning.  The Twins salvaged a 4 game series split with the Royals with the victory.  Minnesota is currently 11 games below .500 with a record of 24-35, and a very disappointing 12 games behind the first place Chicago White Sox.
The Minnesota Twins now have a day off, before opening up a 3 game series against the New York Yankees at Target Field on Tuesday.  That series will be followed by a match up against the Houston Astros.
---