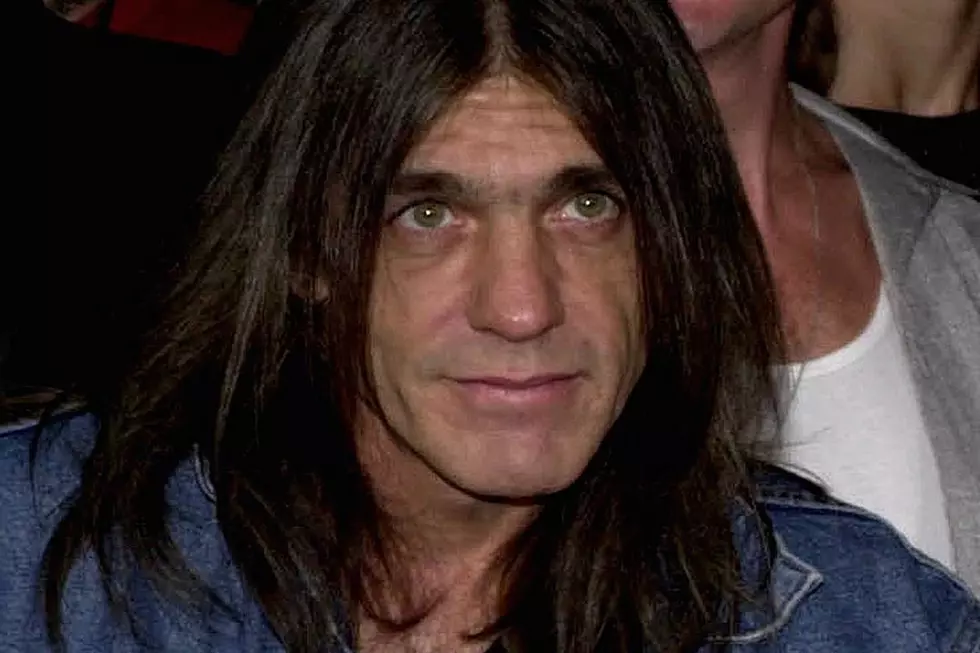 Malcolm Young's Final Years
Hulton Archive, Getty Images
Even before AC/DC concluded their Black Ice tour on June 28, 2010 in Bilbao, Spain, they were aware that there was a problem with founder Malcolm Young's health.
As his brother Angus said in November 2014, Malcolm had issues with memory and concentration since before they started work on their 2008 album, but he was still able to participate in the recording and the promotion of the record. "[Malcolm] was still capable of knowing what he wanted to do. I said to him, 'Do you want to go through with what we're doing?' And he said, 'S---, yeah.'"
During the tour, which lasted nearly two years, Malcolm "got good help, good medical care," Angus continued, even though he had to relearn many of the songs he wrote, "which was very strange for him. But he was always a confident guy, and we made it work."
Out of respect for his privacy, the band kept the truth about his health a secret from the press. In 2012, singer Brian Johnson said that a delay in their next project was because, "One of the boys is a little sick and I can't say anything, but he's getting better. He's doing wonderful. Full recovery fully expected."
But by April 2014, a few weeks before they were planning to start recording Rock or Bust, word started to leak out that Young's health had deteriorated to the point where he would have to leave the band. "One of the boys has a debilitating illness, but I don't want to say too much about it," Johnson said. "He is very proud and private, a wonderful chap. We've been pals for 35 years and I look up to him very much." Later that day, AC/DC put out a statement confirming that Young was "taking a break" from the band he formed more than 40 years earlier.
They tracked Rock or Bust in Vancouver, with Angus and Malcolm's nephew Stevie, who filled in for Malcolm in 1988 while he sought treatment for his alcohol addiction. Johnson later admitted that Malcolm's absence affected the sessions.
"We missed Malcolm, obviously," he noted. "Stevie was magnificent in his stead, but when you're recording with this thing hanging over you, and your work mate isn't well, it's difficult. I'm sure he was rooting for us the whole time we were over in Canada."
On Sept. 24, 2014, AC/DC announced that Stevie was permanently replacing Malcolm in the press release that accompanied news of the arrival of Rock or Bust. Two days later, it was reported that Malcolm was being treated for dementia in a nursing facility in Sydney after having suffered a stroke the previous year. The band confirmed the diagnosis on Sept. 30, and the artwork for the record featured two tributes to the guitarist.
But, as we later learned, it was more than just dementia. On the day of Rock or Bust's release, Angus said that his brother "had a lung operation; he had a heart operation.. everything hit him at once, besides his dementia." But again, that was an understatement. In January, it was revealed that he was diagnosed with lung cancer after the Black Ice tour, and that he had a pacemaker installed.
AC/DC opened up their tour on April 10, 2015 with a 20-song at the Coachella Festival in Indio, Calif. But by that time, there was another change in the band. A month before Rock or Bust's release, drummer Phil Rudd was arrested for threatening to kill someone and drug possession. He was replaced by Chris Slade, who had previously drummed with the band from 1989-94. Rudd eventually pleaded guilty to slightly reduced charges and was sentenced to eight months of home detention.
During the tour, Angus would often give an update on his brother's health, saying that he goes out for a walk and a cup of coffee daily, and that, "Every now and then he's still the Malcolm I know." Six months later, he was spotted on one of those walks, in the King's Cross neighborhood of Sydney, near a facility where he received part-time treatment. Around that time, Malcolm and his wife purchased a waterfront house in the exclusive Sydney suburb of Palm Beach, reportedly for more than $10 million Australian.
While on the road, AC/DC were forced to make another change in the lineup. In March 2016, Johnson was told by doctors that if he didn't stop touring immediately, he would risk a total hearing loss. The tour's 10 remaining shows were in serious jeopardy, but Axl Rose offered his services to the band, and the dates were rescheduled for August and September, while Rose was on a break from Guns N' Roses' Not In This Lifetime dates that saw him reunited with Slash and Duff McKagan.
However, as they were waiting to make up the days, bassist Cliff Williams, who had been in the band since 1978 and, after Angus, was the second-longest tenured member of AC/DC, announced that he would retire upon the conclusion of the tour. "Losing Malcolm [Young], the thing with Phil [Rudd] and now with Brian [Johnson]," he said, "it's a changed animal. I feel in my gut it's the right thing."
The tour concluded on Sept. 20 in Philadelphia, with Angus bringing Williams out from his usual spot in the back to the front catwalk during the traditional closing song, "For Those About to Rock (We Salute You)." As the tour wound down, Angus acknowledged that Malcolm's condition had gotten worse in the two years since his condition was made public. "It's hard to communicate," he said. "I do pass on messages. I can't be 100 percent sure it goes in there. But I let him know there are a lot of people missing him."
Angus also admitted that he wasn't sure what was next for the band. "We were committed to finishing the tour," he said. "Who knows what I'll feel after? When you sign on and say, 'I'm gonna do this and that,' it's always good to say at the end of it, 'I've done all I said I would do.'"
But he added that Malcolm's drive kept the band going through difficult times, saying, "I feel obligated to keep it going, maybe because I was there in the beginning with him."
AC/DC Albums Ranked