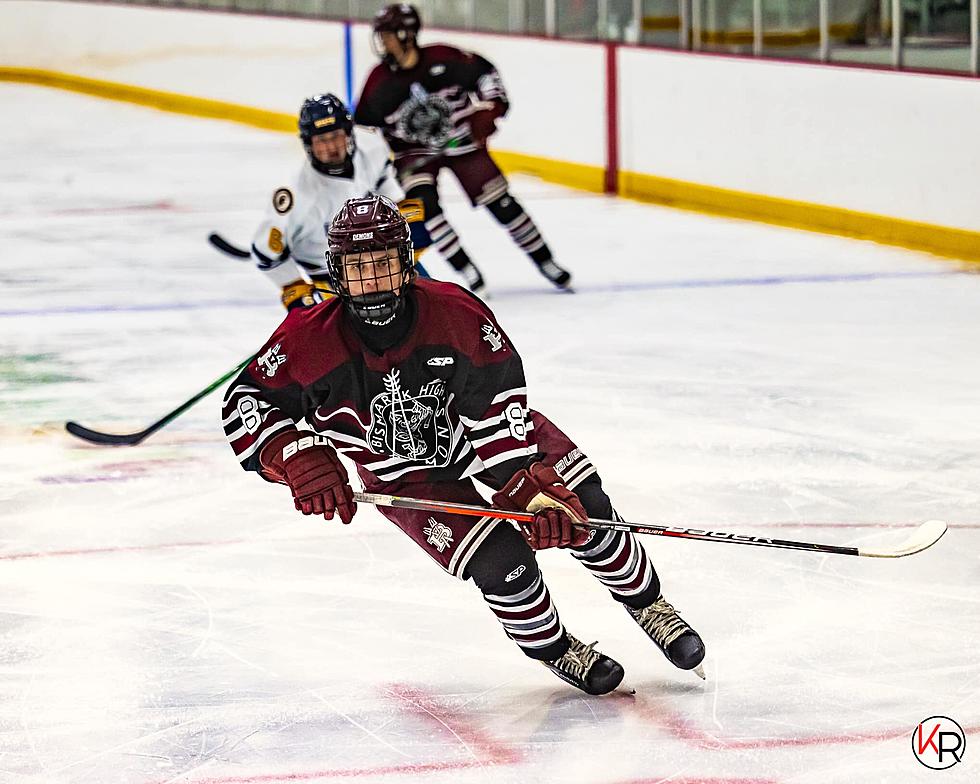 North Dakota High School Hockey Still Needs A Two Class System
Kerry Ring
Since it looks like hockey season again in Bismarck Mandan let's talk about some high school boys hockey in North Dakota.
As someone who's been involved with youth hockey in North Dakota for the last 13 plus years, I believe it's time for North Dakota to go to a two-class system for High School Hockey.  "AA" "A" or "A" "B" it really doesn't matter what you call it.
North Dakota High School Football recently did this two years ago with its highest classification at the time.  After two years of Class AA 11 man and Class A 11 man, I think most would agree it's been a success.  It's given teams like Jamestown a chance to compete and win championships, which would never have happened if they were still playing with the likes of Bismarck Century or Legacy.
As far as hockey goes this is something that has been brought up many times in the halls of rinks for as long as I can remember.  Obvious advantages...Teams like Hazen, Devils Lake, Mayville, etc would actually have a chance to play in a state tournament.
You could also maybe entice a few club programs across the state to move up to high school varsity hockey like Watford City, Langdon, Crosby, etc.  To me, this is a win for all.  I understand hosting a state tournament with twice as many teams would not work in one city, with the exception of Grand Forks or maybe Fargo.  You would then simply hold the tournaments in different cities, giving more economic benefits to the state.  No different than what they are doing for Bantam or Pee Wees in youth hockey every year.
The next advantage...6 point games are TERRIBLE for both teams.  Beating somebody 12-0 hurts both programs.
Final advantage.  You're only allowed 21 games per year.  Having to waste 3 or 4 of those each year against "lesser" programs only hurts both programs.  Especially teams in the west.  If the west ever wants to get back on par with the east, you need to play better teams.  Take away those games and you could schedule more games with the better teams in the east or higher programs in Minnesota.
Let's face it, we haven't had a team from the west beat a team from the east in several years in the North Dakota State Boys hockey tournament.  Bismarck High as an example hasn't beaten an east team in over 3 years.  You get better by playing better competition.  Imagine if the Bismarck teams gave up their Hazen games and maybe a game or two from other lower-ranked west teams and played the likes of Moorhead or East Grand Forks every year.  Yes, there would be growing pains at first.  Eventually, our teams would start playing up to their competition.  It would take a commitment from administrators all the way down to coaching staff to say the status quo isn't good enough anymore.
I have to give Minot High credit this year in boys hockey.  They played a very difficult schedule and it really paid off.  They dropped one of their games with Bottineau and played Minnesota AA power Roseau this past season.  They may have lost big but it was a step in the right direction to start competing more consistently with the east.  They also played St. Louis Park and Mahtomedi from Minnesota. Minot actually beat a team from the east this year during the regular season West Fargo Sheyenne.  Sheyenne went on to make the state tournament and beat the top-ranked team from the west Jamestown.  They also took highly ranked Fargo Davies to overtime during the regular season and played them tough in the North Dakota State Boys Tournament.  Play better teams and you learn things, even if you lose.
Something else the NDHSAA should consider is adding a couple more games each year.  This is another complaint that is commonly echoed across the rinks.  So many kids leave early for Juniors because of this.  Even increasing the games by two would be a start.  This would only mean adding one extra week to the season.  Most of these kids are used to playing 45-plus games a season in Bantams.  Going from 21 to 23 games doesn't seem that monumental.
Matt Fetsch from the NDHSAA was kind enough to jump on the phone with me a couple of years back and explained to me what needs to take place to move to a two-class system in boys hockey.  The NDHSAA only meets every other year, much like our legislature in North Dakota.  There would have to be a membership vote to change the Bi-Laws and make an amendment.  Currently in North Dakota if you go to a two-class system, you must have at least 12 teams in each class.   This was obviously done with football a couple of years back, so it could be amended for hockey.  It would simply involve getting coaches, athletic directors, and decision-makers together and cutting some of that red tape.
If we truly want to grow hockey in North Dakota, give our kids a better chance to take the next step and compete with the rest of the country (especially in the west).  Now is the time to move on this subject.
Here's how I could see teams falling into a two-class system for hockey.
AA Boys Teams:
West-Bismarck High, Bismarck Legacy, Bismarck Century, Minot, Jamestown, Williston & Mandan. (A second Minot high school team is coming)
East-Grand Forks Red River, Grand Forks Central, Fargo Davies, Fargo South, Fargo North, West Fargo, and West Fargo Sheyenne.
A Boys Teams: (one conference)
Mayville-Portland, Dickinson, Bottineau, Hazen-Beulah, Grafton, Devils Lake, Watford City, Crosby, and Langdon.  (who knows who else you could get to move up to the high school level?)  Maybe even Wahpeton would leave their Minnesota Independent section schedule if they could actually compete against North Dakota teams.  After all, that's why they left.
---
Most Famous Athletes To Go Pro In North Dakota
LOOK: MLB history from the year you were born
Stacker
compiled key moments from Major League Baseball's history over the past 100 years. Using a variety of sources from Major League Baseball (MLB) record books, the Baseball Hall of Fame, and audio and video from events, we've listed the iconic moments that shaped a sport and a nation. Read through to find out what happened in MLB history the year you were born.