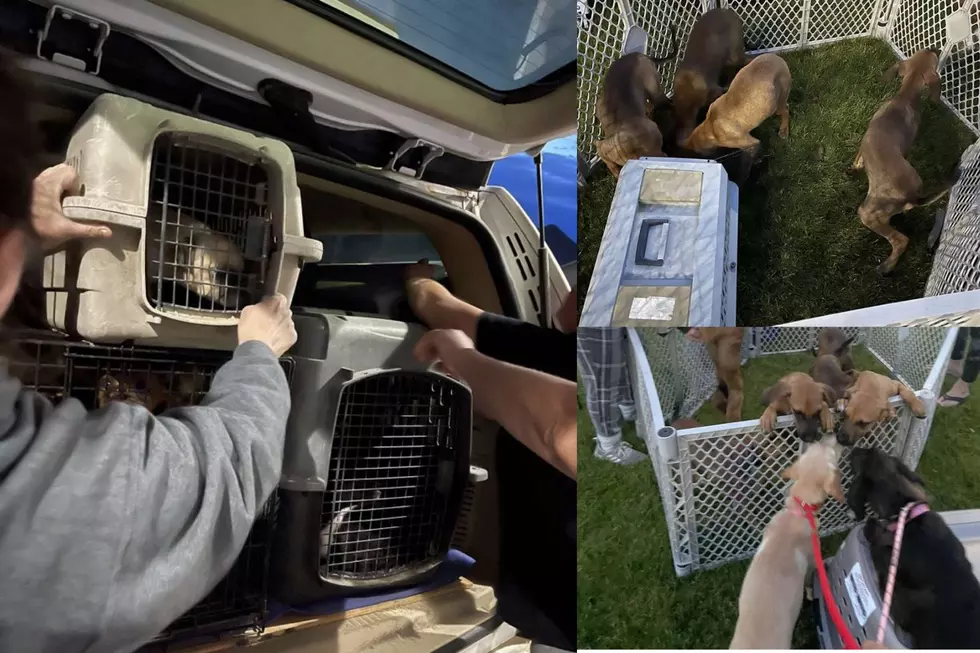 Bisman Dog Rescue Saves Nearly 40 Dogs From The Streets Of Texas
Kari Serr, Canva
**Adoptable Dogs Listed Below**
You might not know this, but there's an animal rescue in Bismarck-Mandan that's reach crosses state lines. Their mission is to help all dogs, not just the ones in our state.
A 24-Hour Journey
The dogs were picked up from the streets of Texas and driven 24 hours to Miles of Love Dog Rescue in Bismarck. There were 34 dogs in total; They came all the way from South of the San Antonio area, near the Mexican border.
Miles of Love Dog Rescue has been taking in/saving dogs in Texas since 2015.
"It makes my heart happy when we get to make a difference in a dog's life, but it isn't always easy," said Kari Serr, the President and Founder of Miles of Love.
Picking Up Dogs Across North Dakota Too
In addition to the 34 dogs Miles of Love took in from Texas, they also pulled some from local pounds (who, if stayed too long, could've been euthanized) in Bismarck, Dickinson, and Minot, and even picked up a stray in Ft. Yates.
"We do not believe borders should stop us from helping dogs," said Serr. 
Kari tells me they see a lot of heartbreak in their line of work. Some of the dogs they rescued had siblings, and unfortunately, they didn't make it. They had gotten hit by cars before they could get picked up.
She also tells me that not everyone agrees with what they do.
"I try not to let it get to me because I am here for the dogs. I truly enjoy doing this and I have an amazing team of fosters and volunteers behind me, and our community has been great with supporting us," said Serr.
Community Support
Some of the dogs Miles of Love recently rescued have already been adopted, but there are still plenty more that are in need of good homes. As you can imagine, with the rescue taking in more pups, the need for support is great.
"We rely on donations to keep our operation going. We are always in a great need of community support, donations, and temporary foster homes for dogs," said Serr.
If you would like to make a donation to Miles of Love, they accept Venmo, Paypal, checks, and donations through its website.
Serr tells me they also accept supplies such as dog and puppy food and they are currently running low.
They also could use things like leashes, collars, treats, blankets, towels, puppy pads, and crates. Serr says they are very grateful for any and all help.
Here are some of Miles of Love's Adoptable Dogs:
20 Adoptable Dogs From Miles Of Love
Here are some (not) of the adorable floofs you can adopt today.
---
North Dakota's Top 11 Lakes According To Our Fans
LOOK: Here are the pets banned in each state
Because the regulation of exotic animals is left to states, some organizations, including The Humane Society of the United States, advocate for federal, standardized legislation that would ban owning large cats, bears, primates, and large poisonous snakes as pets.
Read on to see which pets are banned in your home state, as well as across the nation.