Dessert recipe #1 for the Holidays
As we get closer to Thanksgiving, here is a recipe that could work for dessert during your dinner. Pumpkin Cheddar Muffins. Yes, you heard right, these delicious muffins have just enough cinnamon to balance the Pumpkin and could be a creative surprise for your family.
PUMPKIN CHEDDAR MUFFINS
These pumpkin cheddar muffins are unique, surprising, and extremely delicious. They'll be a new favorite!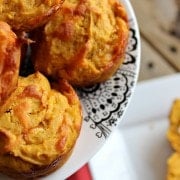 INGREDIENTS:
1 cup canned solid-pack pumpkin purée
3 tablespoons sour cream
2 large eggs
1/2 cup (1 stick) unsalted butter, melted and cooled
2 cups all-purpose flour
1 1/2 teaspoons baking powder
1/4 teaspoon cayenne pepper
1 1/2 teaspoons salt
1 1/2 teaspoons freshly ground black pepper
1/2 cup firmly packed dark brown sugar
1 1/4 cups (about 4 ounces) grated sharp cheddar
2 tablespoons pumpkin seeds, optional
DIRECTIONS:
1. Preheat the oven to 400 degrees F. Lightly spray each cup of a standard 12-cup muffin pan with a little bit of vegetable spray and use a paper towel to spread the oil evenly along the bottom and up the sides of each cup.
2. In a large bowl, whisk together the pumpkin and sour cream. Add the eggs and butter and whisk until combined.
3. In another large bowl, whisk together the flour, baking powder, cayenne pepper, salt, black pepper, and brown sugar. Make a well in the middle of the dry ingredients. Pour the wet ingredients into the well, and fold until just combined. Fold in three-quarters of the cheese.
4. Dive the batter among the muffin cups. Sprinkle the remaining cheddar and the pumpkin seeds on top of the muffins. Bake them for 20 minutes, or until golden brown. Let the muffin pan cool on a rack for 10 minutes before turning out the muffins. Serve them warm.
5. Muffins taste best when eaten fresh, but they can be made ahead of time and reheated in a 200-degree oven.
Now if you are like me, reading directions and putting them to action is a little challenge. I like visual, so here's a great video on how to make these muffins from ND today.