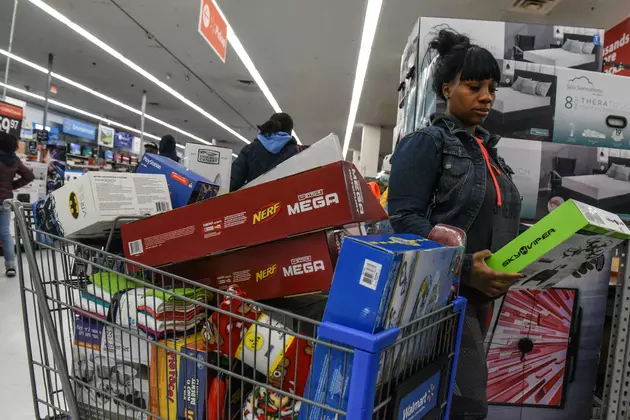 Very Early Black Friday Deals Are Happening Right Now In Bismarck
Stephanie Keith / Stringer/Getty
Ahh yes, the holidays and the joy digging deep into your wallet and savings account for all of that gift giving shopping debt! Oh Joyous Noel!
I was shopping at a local sporting goods store today and I noticed not only was the store very busy (it was Saturday) but one of the salesmen walked up to me and asked if I was holiday shopping, and I said, "for myself". Which I did buy some awesome items for myself, because I deserve it!
Back to the holiday shopping. There are many very good early Black Friday deals going on right now you can take advantage of according to NBC. If you are wanting to do like I did and find a little time to do some self-serving gift giving, here are some of the deals.
At Sams Wholesale, seems people love those stupid little Apple Airpods which I think look so stupid, nevertheless, they may sound great. Right now you'll save $30 for each pair. After all, it's one of Oprah's favorite things! (you must be a member of Sams) That's $117 each.
Amazon is offering free trails and discounts on many of their services. Amazon is proud of their early Black Friday pick which is the Fire TV Stick 4K Bundle with Echo Dot for $80. They too have those stupid little Apple Airpods for $145.
Not to be outdone, here comes Wal Mart. If an XBox is in your future, you better get down to Wally World quick, this deal is going to cause a panic at the disco. (whatever that means) Wal Mart is featuring X Box bundles such as Choice of Xbox One S 1TB Console, Call of Duty Black Ops 4 and 2 Controllers, $299. The kids will never leave their bedrooms. You better get them Depends also. It's not just for bladder control, it's for lazy people who want to play Xbox and never socialize with another live human.
There are many more early Black Friday Deals you can find from other retailers, but hurry, before they sell out before Black Friday. Doesn't that just sound weird?
By the way, it is always a good idea to check with the local stores before going out to purchase these deals to make sure they are still available.