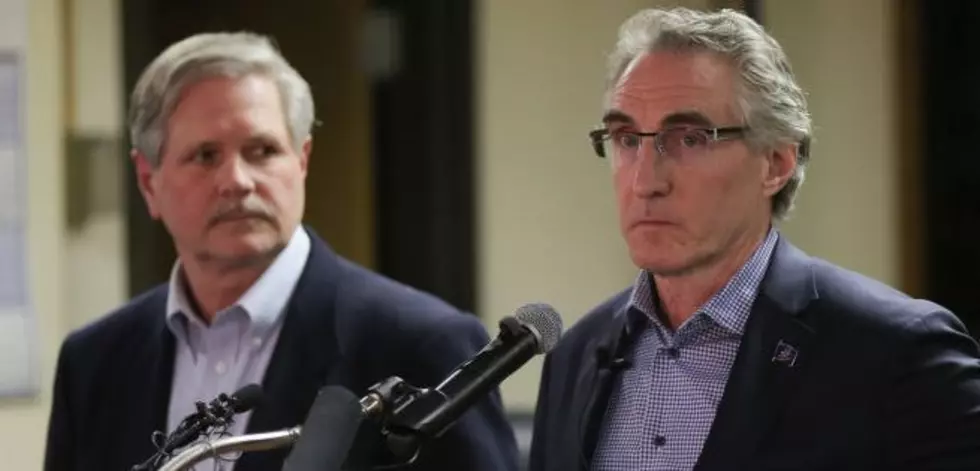 Doug Has The Power To Grant Tribes ALL ND Sports Betting
opsmgr
Earlier this month I wrote an article about North Dakota's only "sportsbook" location.
It's on the North Dakota/South Dakota in a casino in Hankinson, North Dakota. Since sportsbooks are not yet legal in North Dakota the casino is living its betting life in a loophole. So, it's only been a couple of weeks since that story came out, why go back?
The topic of sportsbooks is about to get seriously HOT seriously FAST.
Sports betting and gambling in general are topics similar to marijuana legalization. People initially stand up firmly in defiance only to eventually get beat down by boredom and the more motivated "pro" parties trying to push their legal agendas.  At the end of the day, the promise of profit will always hold sway.
Remember the massive opposition to establishing the North Dakota Lottery?
These days it seems like a quaint little memory.  Shoot in 2017, legislation was passed to allow casino-style electronic tabs in bars and locations all across the state.  You know what? North Dakota threw about $1.75 billion into the e-tab machines in fiscal 2022. So, once again, if you can't beat them join them. Especially if you're shoveling cash into the State's coffers.  Plus, you don't have to drive farther away than your neighborhood bar.
All the electronic tab revenue is taking away massive casino revenue across the state.
So North Dakota's five tribes would like to replace that lost money with profits from online sports betting. It's not legal yet, but like the lottery, it surely soon will be. Of course, everyone wants a piece of the action.  And if they don't get theirs, there will be dire consequences indeed,
Allowing North Dakota's five American Indian tribes exclusive rights to host internet gambling and sports betting could effectively end charitable gambling in the state, officials representing charities told Gov. Doug Burgum on Friday.
How dramatic!  Of course, let's not talk about the electronic tabs ripping a huge hole in the tribal casino business. So, moving right along...isn't this a legislative issue?  A Federal issue? I'm sure all of those avenues will be explored but for now, it's a "compact" issue between the state and the tribes.  A compact is an agreement entered between those two entities. Read more about compacts here,  here, and here.
So what's a Doug to do?
I guess it doesn't really matter since online gambling and sportsbooks are not yet legal in North Dakota but Doug could set a precedent by attempting to cede exclusive overseeing rights for the North Dakota tribes.  It would give the opposition time to tear up that compact before the first North Dakota online bet hits the books. Because you know we will.
Y'all keep it civil!
---
Top Ten States With The MOST Ghost Sightings Ranked
How Haunted Is Your State?
LOOK: How Halloween has changed in the past 100 years
Stacker
compiled a list of ways that Halloween has changed over the last 100 years, from how we celebrate it on the day to the costumes we wear trick-or-treating. We've included events, inventions, and trends that changed the ways that Halloween was celebrated over time. Many of these traditions were phased out over time. But just like fake blood in a carpet, every bit of Halloween's history left an impression we can see traces of today.
Bismarck's Many Windowed 1.25 Million Dollar Mansion
Every room has a view- even the sauna!