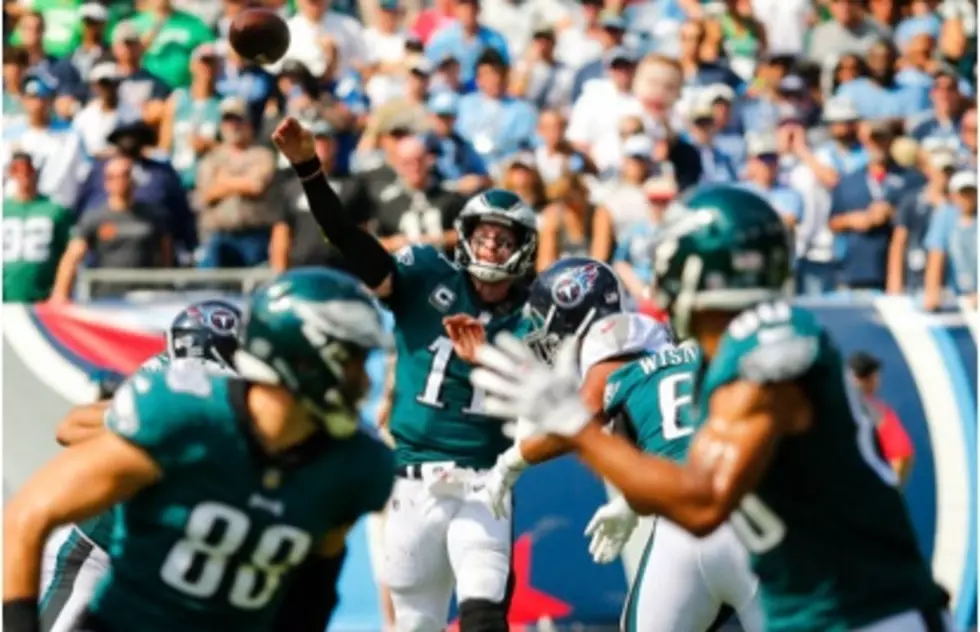 Wentz and Eagles Fall in Overtime to Titans
Getty Images
Carson Wentz had a solid game in his second game back from injury, but the Tennessee Titans made the plays when it counted to win in overtime.
The Titans scored with just 17 seconds left in overtime to beat the Philadelphia Eagles, 26-23 ona 10-yard pass from Marcus Mariota to Corey Davis.
Wentz threw for two touchdowns and 348 yards on 33 of 50 passing. The Eagles led 17-3 in the third quarter and 23-20 in overtime, but couldn't hold the lead.
After a slow start in the first quarter, Wentz threw touchdowns of 56 yards and 16 yards to Jordan Matthews and Alston Jeffery, respectively, to hand the Eagles a 17-3 lead midway through the third quarter.
But the Titans responded by putting up points on their next three possessions. The first was a 2-yard run from Mariota to make it 17-10. Then, a 33-yard field goal from Ryan Succop and it was 17-13. The Titans next possession made it 20-17 on an 11-yard pass from Mariota to Tajae Sharp.
With under two minutes remaining, DeAndre Carter returned a punt 42 yards into Titans territory at the 39 yard line. Wentz would move the offense down to the 12-yard line before having to settle for a Jake Elliott 30-yard field goal to make it 20-20, sending it into overtime.
The first possession went to the Eagles as they moved the ball 56 yards on 9 plays to the Titans 19 before settling for a 37 yard field goal to up 23-20 with just over 6 minutes left in the overtime period.
The Eagles had a chance to stop the Titans on a 4th and 15 and a 4th and 4 but each time, Tennessee converted to extend the game.
Zach Ertz had 112 yards on 10 catches and Alshon Jeffery added 105 on 8 catches in his first game back from injury.
The Eagles fall to 2-2 and will host the Minnesota Vikings (1-2-1) next Sunday at 3:25 p.m.