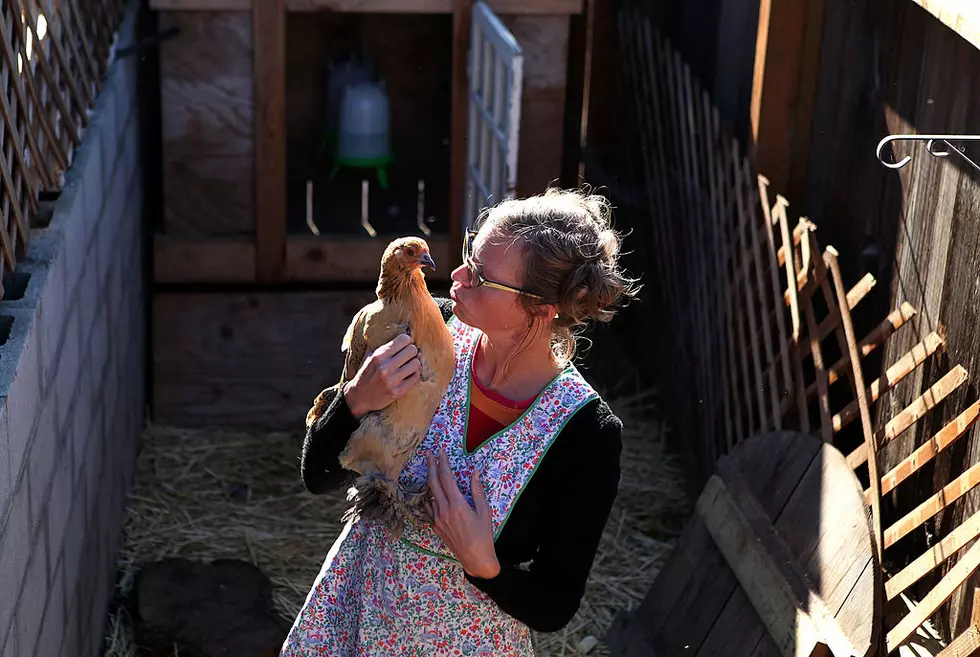 What The Cluck? Should The City Of Bismarck Allow Chickens?
Justin Sullivan/Getty Images
The Planning and Zoning Commission will meet this Wednesday in Bismarck to discuss the possibility of allowing chickens in the city of Bismarck.  The meeting is open to the public and individuals will be able to give testimony.
Mayor Steve Bakken is on the record, saying he's adamantly against chickens in the city.  "The noise and smell of chickens will cause problems."  The measure was introduced by a former commission member from Mandan.
I hear you clucking mayor, but as somebody who has a neighbor with chickens, I have to disagree.  I live a couple miles south of Lincoln and to be honest, I didn't even realize my neighbors had chickens.  They're very quite, and I have never smelled a foul odor.
Residents of the city of Mandan are allowed to keep up to 4 hen chickens in a coop or enclosure, but they must not be visible from the street.  This new ordinance is going on a couple of years now.
The meeting will take place in the Tom Baker meeting room at 5 pm this Wednesday, May 26th in the city county office building.  The City of Bismarck is encouraging citizens to provide their comments for public hearing items on the Planning and Zoning Commission agenda via email.  planning@bismarcknd.gov  The comments will be sent to the Planning and Zoning Commissioners prior to the meeting and included in the minutes of the meeting.
You must submit your comments no later than 8 am the day of the meeting. (tomorrow) Comments received after 8 am the day of the meeting will not be included for consideration by the Planning and Zoning Commission.
Comments should also include which agenda item number your comment references and your name.  In this case, if you would like to comment on chickens in the city of Bismarck you would include this number ZOTA2021-002.  Anonymous comments will not be heard.
If the measure is passed it will move on to the City Commission meeting.  So, this is just the first hurdle.
What do you think?  Is it time to allow chickens in Bismarck or will it leave egg on our face?
---
LOOK: Here Are 30 Foods That Are Poisonous to Dogs
To prepare yourself for a potential incident, always keep your vet's phone number handy, along with an after-hours clinic you can call in an emergency. The ASPCA Animal Poison Control Center also has a hotline you can call at (888) 426-4435 for advice.
Even with all of these resources, however, the best cure for food poisoning is preventing it in the first place. To give you an idea of what human foods can be dangerous, Stacker has put together a slideshow of 30 common foods to avoid. Take a look to see if there are any that surprise you.