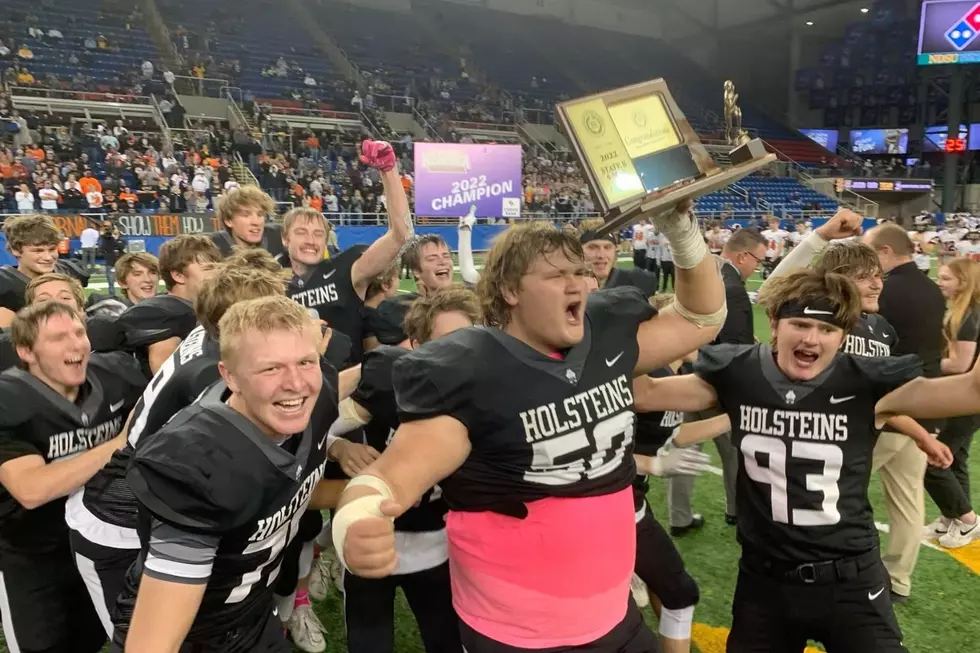 BREAKING: ND Small Town Hero Now A NDSU Bison
Tamra Heins
For many of us that have followed North Dakota High School Football, we have been waiting. Waiting to see what our small town, HOME TOWN HEROS, will be doing with the next chapter of their lives.  For some, playing high school ball ends at graduation.  Love the memories, but it's time to hang up the jersey and put the helmet away.  For AJ Heins, this is only the beginning of another chapter and a pretty darned big one at that.
New Salem-Almont senior, AJ Heins signed to go from being a Holsein to a Bison. This fall Heins will play football for North Dakota State University.
AJ Heins, the 295-pound, 6'3" senior lineman from New Salem played a major role in the New Salem Holsteins Football 12-0 perfect season.
Personally, this is awesome!  We have known AJ for many years and we cannot think of a better ambassador for small-town North Dakota to move on to play Division 1 football.  Not only is AJ a very talented football player, but he is also currently wrestling for the Holsteins.farg
Nothing warms the heart more than when a small-town athlete, who is a great farm and ranch kid, goes from playing 9-Man Football to playing on the gridiron for one of the most nationally recognized football clubs.  We have been fans for many years and have cheered right alongside all of those who take pride in North Dakota State University.  But now, we have even more reason to shout..."Horns UP!"
NDSU opens its season on September 2nd when they face off with Eastern Washington. at the U.S. Bank Stadium in Minneapolis, aka the home of the NFL Minnesota Vikings.What a way to start that next chapter. Congrats AJ, we will be cheering even louder than ever!
North Dakotans And Minnesotans That LOVE THE SNOW!
There are MinneDakotans that love the snow perhaps too much.
10 Famous Movies That Led To Major Lawsuits