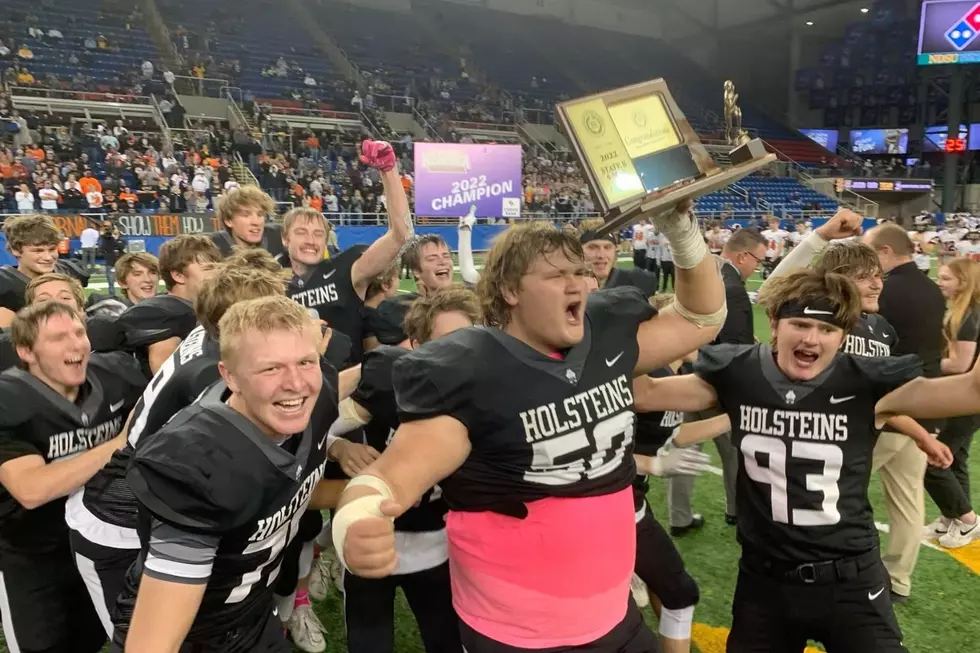 History Made, Revenge Taken, And Champs Named in North Dakota
Tamra Heins
A title in the making, 36 years in the making for the New Salem - Almont Holsteins.  Despite a blizzard and Interstate 94 being shut down, nothing was going to stop the Holsteins from remaining undefeated in the ND Class B State 9-Man Football Championship.
---
We have watched football all our lives, but this one kept all fans glued to what was going to happen next.  It seemed like a repeat from last year when New Salem - Almont faced off with the Cavalier Tornados.  Just like last year, this one came down to the last play of the game.
20 to 20 pushed this game into overtime.  Each team received the ball on their own 10-yard line with 4 attempts to score, and the option of a two-point conversion if a score is successful.  In OT, the Holsteins struck first with a 6-yard run on the second play. This gave the Holsteins a 26 to 20 lead.  A successful 2-point conversion made it an eight-point game, putting pressure on Cavalier. The Tornados went on to score but the Holstein's defense stopped Cavalier from the 2-point try.  Final score New Salem - Almont 28, Cavalier 26.
---
Holsteins #2 Ethan Maier comforting Cavalier receiver. True sportsmanship.
SPORTSMANSHIP
The sportsmanship was one to be observed and notes taken.  Many of the New Salem-Almont Holsteins were thanking Cavalier for a game well played and only worthy of champions!  Congratulations to Steve Kleinjan for being named the Coach Of The Year, his first time in 26 years of coaching!
Truly a match of East versus West.  And isn't that how it should be?  Two undefeated teams battle it out for the state championship and it comes down to the last play in overtime! Teamwork at its finest, up until the very end when in the final attempt in OT, Holstein's Brock Norton's 6-yard run and a conversion on the first OT possession held up as the game-winner. Well played to both teams and congratulations to the Holsteins! #rollcows
Here is AJ Heins, nominee for Senior Athlete Of The Year, being interviewed.
AND in the spirit of Class B hometowns, the Holsteins were welcomed with snowbanks to fireworks as the 2022 Class B State 9-Man Football Champion rolled into New Salem. Well done.
Watch ALL of the 2022 ND State Football action from the Dakota Bowl here.
6 Things North Dakotans Do While Driving
Here are some things we do that annoy people.
LOOK: The top holiday toys from the year you were born
With the holiday spirit in the air, it's the perfect time to dive into the history of iconic holiday gifts. Using national toy archives and data curated by
The Strong
from 1920 to today,
Stacker
searched for products that caught hold of the public zeitgeist through novelty, innovation, kitsch, quirk, or simply great timing, and then rocketed to success.