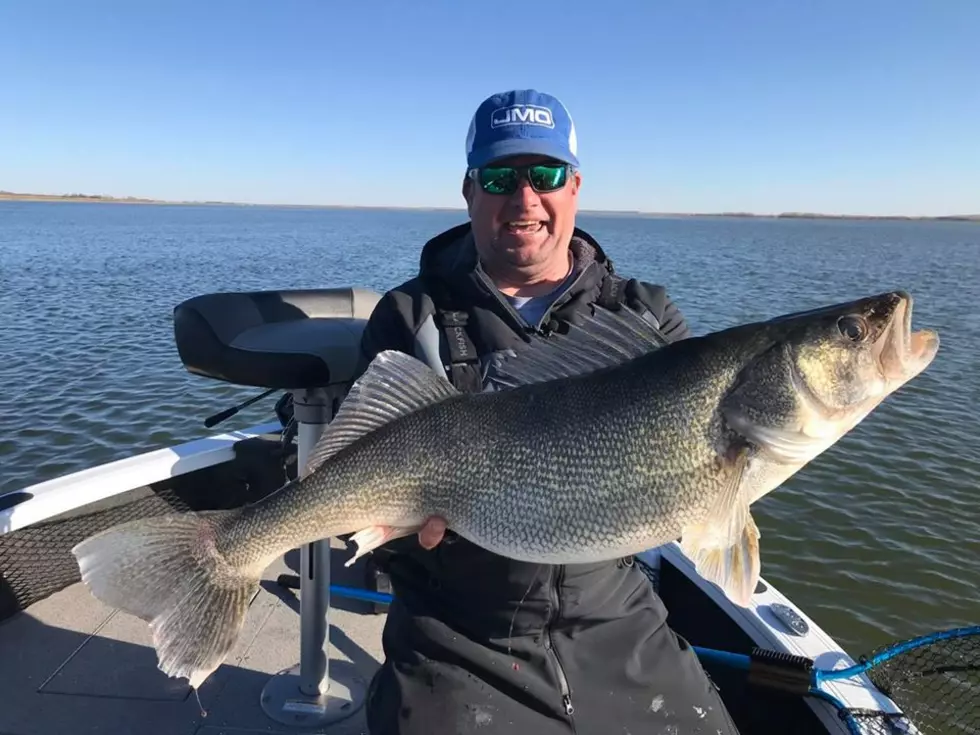 North Dakota State Walleye Record Broken! (PHOTOS)
Photo credit Jason Mitchell Outdoors
Look for an official announcement later today or early this week, but the North Dakota State Walleye record has been broken.  Baring some unforeseen technicality, Jared Shypkoski from Dickinson, North Dakota will be the new record holder.  Jared caught a 16.39 lbs while trolling a crankbait south of Bismarck.  Here's a look at this massive Walleye.
Some people speculated on social media over the weekend, this is the same fish that Jason Mitchell caught last year, but did not have a scale and decided to let the fish go, even though it might have been a state record. Here's a look at that fish again.
Even though the fish were caught in roughly in the same area, I find that highly unlikely.  There's a lot of big fish in the Missouri River system these days, and unless there's some distinguished mark that I'm not seeing, I really doubt it's the same fish.
Jared Shypkoski 16.39 Walleye will break the current record of 15 lbs 13 oz caught by Neal Leier of Bismarck in 2018.  Here's a look at the current state record fish.
In 2019 the record was supposedly caught as well by Tom Volk of Lincoln that weighed 16.9 on April 22nd.  Here's a look at that fish again.
This record was taken away from Tom after a video surfaced showing the fish was illegally hooked. Tom Volk to this day, maintains the fish was caught legally. I have also seen the video, and I have to agree. I have no idea how the record could've been taken away from him because of that video.
With all the big fish currently in the Missouri, I would not be surprised at all if this new record falls before the end of May.  The height of the big fish season isn't even here yet.  I know the Game and Fish have netted several state records over the last couple of years.  I saw one picture of a 17lb plus fish.  Something tells me this is going to be a short lived record.
---
How Many in America: From Guns to Ghost Towns
Can you take a guess as to how many public schools are in the U.S.? Do you have any clue as to how many billionaires might be residing there? Read on to find out—and learn a thing or two about each of these selection's cultural significance and legacy along the way.