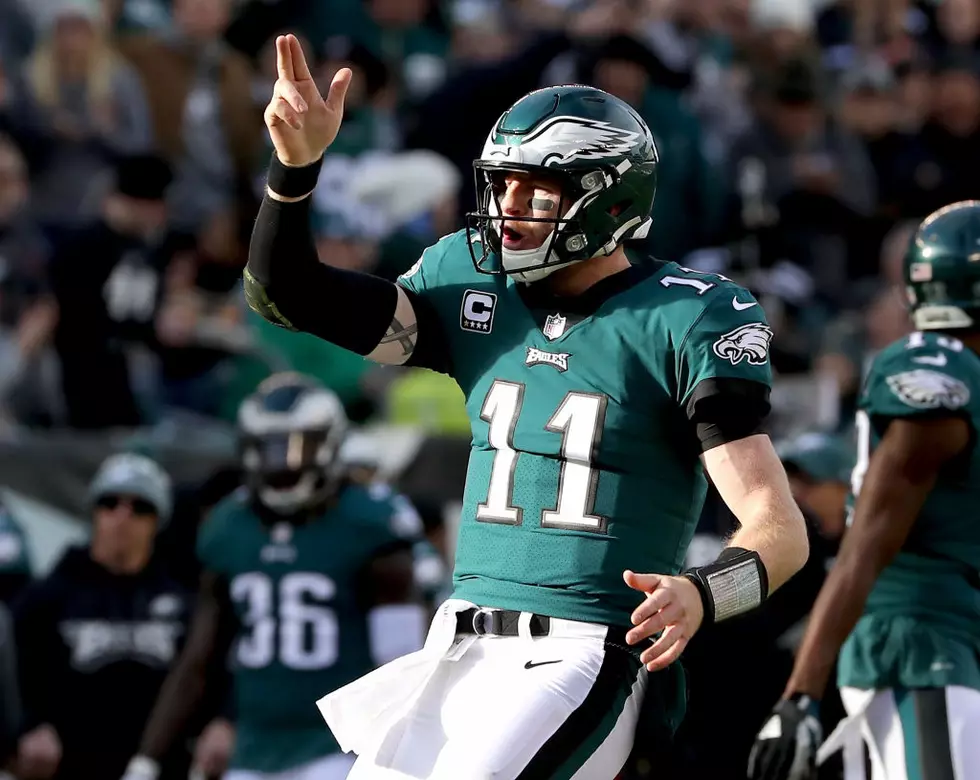 Wentz Still Leads QBs in Touchdowns Heading into Final Week of 2017 Season
Elsa | Getty Images
As we head into the final week of the NFL season, Carson Wentz, despite missing the previous two weeks of football, still leads the league in touchdown passes.
Wentz, through the first 14 weeks of the NFL season (and in 13 games), threw 33 touchdown passes, an Eagles franchise record.
Despite his ACL tear, some people wondered if Wentz could still potentially be an MVP candidate.
Even though Nick Foles was at the helm the last two weeks, and will continue to be in that role for the rest of the season, it's no secret that Wentz is a huge part of the reason the Eagles will now have home field advantage throughout the NFL playoffs.
Russell Wilson currently has 32 touchdown passes and Tom Brady has 30 touchdown passes.
Wilson and Brady each threw 2 touchdown passes this past weekend. It's still possible that Wentz could lead (or be tied for the lead) in touchdown passes at the end of the regular season which would be pretty remarkable.
At the very least, as it stands now, it's very possible that Wentz will finish the season ahead of or tied with Tom Brady, who is arguably one of the best quarterbacks to ever play the game. That's an impressive feat considering Wentz will have played in three less games than the man who has five Super Bowl championships under his belt.
Brady and the Patriots will play at home against the Jets in week 17. Wilson and the Seahawks will host the Cardinals. Both the Cardinals and Jets are under .500 so it's possible we could see a lot of touchdown passes thrown allowing Wilson and/or Brady to surpass Wentz.
One might think since the Patriots already clinched the playoffs, that they would bench Brady in week 17. However, though the Patriots have already clinched a first round bye, they have not clinched home field advantage. They will need a win over the Jets or a Steelers loss to clinch home field. The Patriots will certainly want to start Brady in order to help accomplish that.
Meanwhile, the Seahawks still looking to clinch the playoffs (and can do so with a win plus an Atlanta loss), will certainly be starting Wilson.
The Eagles will host the Cowboys. The Cowboys have been eliminated from playoff contention.
Wentz is 14th in the league in total yards while Brady is No. 1. Brady also leads the league in completions while Wentz is all the way down at No. 21.