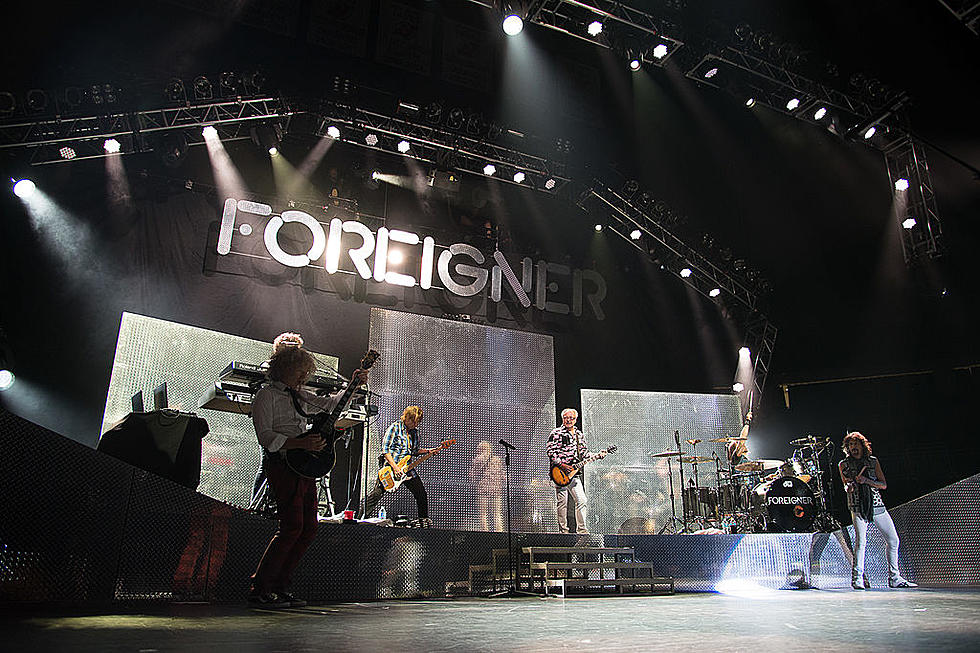 What To Expect? Foreigner Live Saturday In Bismarck! (INTERVIEW)
Getty Images
Michael Bluestein is on the far left in this picture...
He's been the flying fingered keyboardist with Foreigner over a dozen years,  You think about all the Foreigner 70's piano parts (Long, Long Way From Home, Cold As Ice) along with the keyboard/synth attack of the 90's (Say You Will, That Was Yesterday, I Want To Know What Love Is)...Michael has to crush them.  So he does.
It was fun to chat with him about the pandemic time away and recording "Why Corona?".
Wait, what? Oh here's the YouTube video enjoy!
Michael speaks as a musician that feels pretty blessed.  I talked with him for quite a spell.  I'd have a link to a kinda long interview in a bit if you want to take a listen.  He's a great guy.
FOREIGNER'S NUMBER ONE HIT WAS NOT THEIR BIGGEST HIT...
Keyboardist Bluestein has played the keys on tour with some of my very favorite artists like Boz Scaggs (Lido Shuffle) and Roger Hoskins (Supertramp) also along side with...Burt Bacharach? If you don't know, it's pretty weighty company. I'd recommend clicking all of those and then just keep searching...we'll wait back her for ya.
If you're still here...thank you, because this is a story about Foreigner at the Bismarck Event Center this Saturday!  And you shouldn't expect the hits to be anything but rocking!
I'm talking Urgent, Jukebox Hero, Cold As Ice, Blue Morning Blue Day, Head Games, Feels Like the First Time, Dirty White Boy, Long Long Way From Home...tell you what, the biggest hits weren't rockin'- they were the Bic-lighter waving crowd anthems that absolutely dominated FM radio. "I Want to Know What Love Is" is Foreigner's only number one song! What? But, you can't deny that THIS SONG instead was their bigger hit...let's go to Wikipedia!
"Waiting for a Girl Like You" achieved a chart distinction by spending its record-setting 10 weeks in the number 2 position of the Billboard Hot 100 chart, without ever reaching the top. It debuted on the Hot 100 chart dated October 10, 1981. It reached the number 2 position in the week of November 28, where it was held off the number 1 spot by Olivia Newton-John's single "Physical" for nine consecutive weeks, and then by Hall & Oates' "I Can't Go for That (No Can Do)" for a tenth week on January 30, 1982.[10] Because of its chart longevity, it ended up being the number 19 song on the Top 100 singles of 1982. The song was the band's biggest hit until "I Want to Know What Love Is" hit number 1 in 1985.
There's alot of basketball players that never got past Michael Jordan in the finals. Foreigner couldn't out-physical Olivai Newton John.  What the hell, let's watch that on YouTube real quick.
OK, so maybe their only Number One song was bigger?
"I Want to Know What Love Is" was ranked as the number four Billboard Hot 100 single of 1985.[
So figure out your favorite this Saturday night at the Event Center!
Oh, and take the time to listen to me and Michael chat about him working with greats, drinking and blogging about beer, recording a covid classic, and just rocking out with Foreigner in a full interview here. (you must click to listen)
Check Out the Best-Selling Album From the Year You Graduated High School
Do you remember the top album from the year you graduated high school?
Stacker
analyzed
Billboard
data to determine just that, looking at the best-selling album from every year going all the way back to 1956. Sales data is included only from 1992 onward when Nielsen's SoundScan began gathering computerized figures.
Going in chronological order from 1956 to 2020, we present the best-selling album from the year you graduated high school.