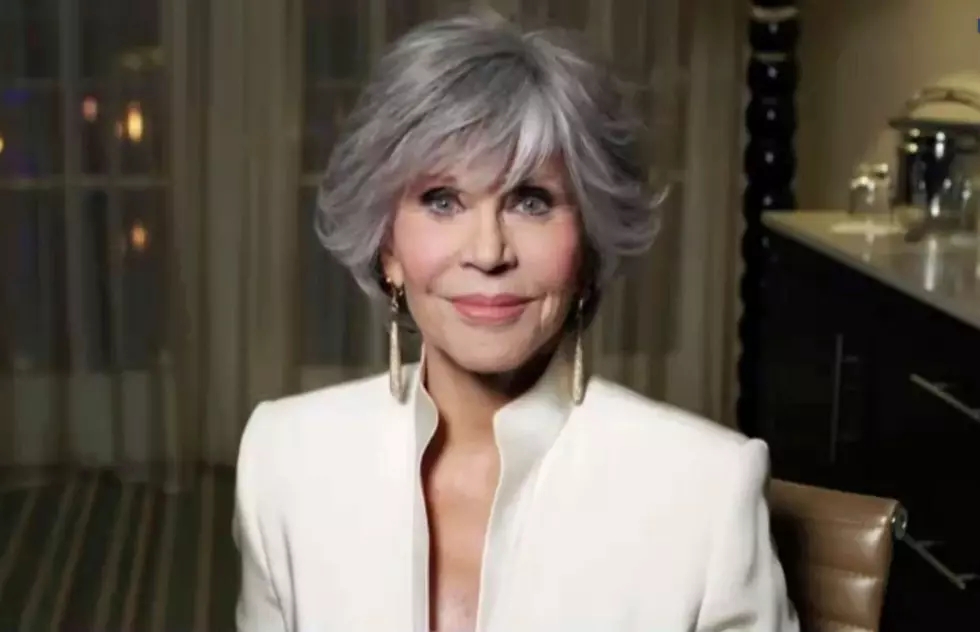 Jane Fonda's Podcast To Focus On Standing Rock Wind Farm.
HFPA via Getty Images
Here's the link if you want to take in Jane Fonda's Fire Drill Fridays podcast.
Political activist Jane Fonda really came on the Standing Rock scene when she threw a Thanksgiving dinner for many of the thousands of DAPL protestors back in November of 2016.  She donated five slaughtered Bison and some yurts.  But Ms. Fonda didn't just dine and dash, she took her No-DAPL stance out west and staged a protest on the streets of Hollywood in December of 2016.  A little over four years later, In February 2021, Jane was joined by a ton of Hollywood celebrities speaking out against the Dakota Access Pipeline.  Pretty powerful group of stars added their voices to urge President Joe Biden to shut down DAPL.  We're talking comic book movie royalty including most of the cast of the Avengers, Aquaman, and actress Shailene Woodley along with her boy toy Green Bay quarterback Aaron Rodgers.  You may remember Shailene getting arrested on-site while actually at the Standing Rock DAPL protests.
Here's a shot of the couple now.  So cute!
Just kidding, Aaron's actually eight years older than Shailene. I wonder if she's part of the reason there's so much turmoil these day with Rodgers and the Green Bay Packers?  If so, keep up the great work!
Back to this week's Fire Drill Fridays podcast.  Jane and SAGE General Manager Joseph McNeil Jr will be discussing the development of the Anpetu Wi Wind Farm and the presence of fossil fuel racism.
As I can gather the wind farm project is to be located between Fort Yates and Porcupine ND.  It's goal is to be a tremendous economic boon for tribal members in the region. Here's hoping it does just that.  I bet I could learn more by listening to Jane Fonda's podcast, but to be truthful, just not a big Fonda fan.  Not even in the legwarmer days.
---
LOOK: Here Are 30 Foods That Are Poisonous to Dogs
To prepare yourself for a potential incident, always keep your vet's phone number handy, along with an after-hours clinic you can call in an emergency. The ASPCA Animal Poison Control Center also has a hotline you can call at (888) 426-4435 for advice.
Even with all of these resources, however, the best cure for food poisoning is preventing it in the first place. To give you an idea of what human foods can be dangerous, Stacker has put together a slideshow of 30 common foods to avoid. Take a look to see if there are any that surprise you.