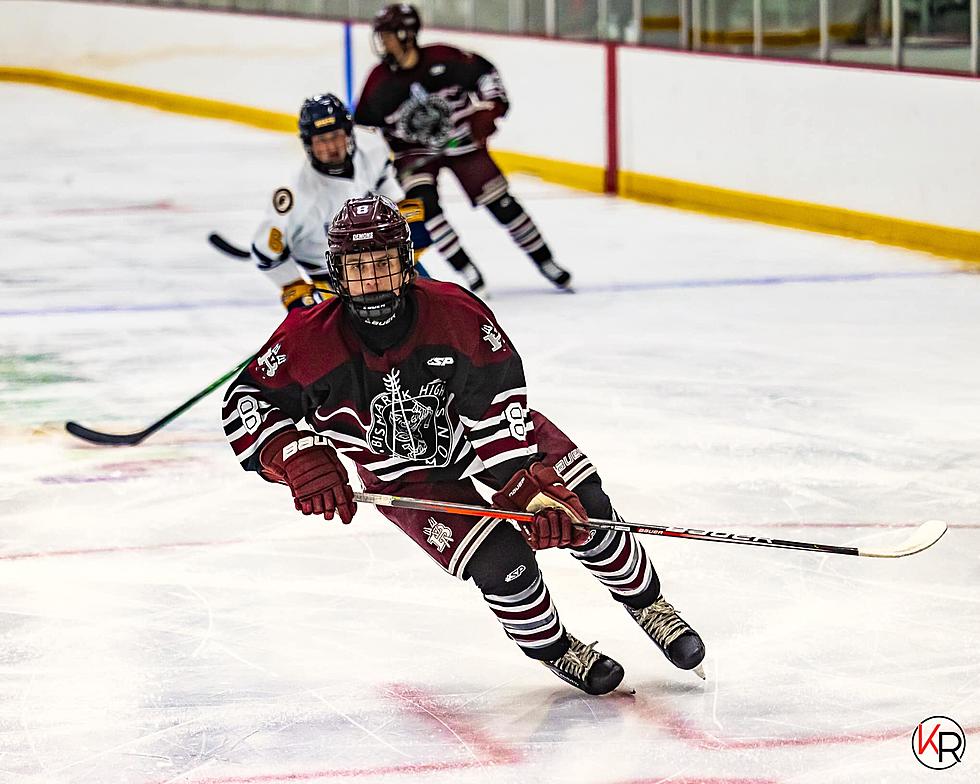 The Ulness Award, Bismarck's Highest Award Given Out
Rick Acker
To me, the most important part of life is how you conduct yourself, to lead by example, to be a shining light of integrity
The above two sentences sum up who Hunter Acker is. A 17-year-old senior at Bismarck High. He is the Captain of the Bismarck Demons hockey team, and last night he was presented with a huge honor at the VFW arena. In between periods of the BHS/CHS hockey game, the 40th year of the Ulness award was given out. A former Bismarck Demon great Joel Ulness passed away at an early age in an unfortunate accident on the Missouri River. This is the highest award that is given to the best senior hockey player both on and off the ice for all three high schools ( Century, Legacy, and Bismarck High )
If you have ever met Hunter, you know how quiet and unassuming he is
With fierce determination on the ice, you would never know it if you were to meet him for the first time somewhere else. He is humble and low-key, yet a perfect leader. A team player that leads by example, and that's an ideal recipe for someone so deserving of the Ulness award. Standing out on the ice last night, you would never know what Hunter has been going through since January 18th.
Injuries are a part of any sport, but never so crucial when it comes to hockey
Take a second and stare at the picture on the cover of this article. Defying the laws of gravity, skating with speed, agility, and strength. That pretty much explains what I see. On January 18th Hunter was involved in a scary scene against Mandan, a painful injury that took him immediately out of play, and one of the first visits to a doctor even further heartache. The chances of him returning to the line-up for the rest of the season were bleak, at best. This is when the true test of any athlete is showcased. Most people will quit, the long hours of thinking about a never-ending rehab are too much for anyone to take. An athlete is all alone, with their thoughts and desire, it's easier to just call it a season than to fight back.
February 9th - a day of a much deserving award and excellent news
The very same day as this video will show an incredible honor, earlier Hunter was given the green light from his doctor to return back to the ice.
Rick Acker
Coming back to test his healing, Hunter will be able to practice with HIS team, these are guys that need his courage and ability.  He's expected to return to the lineup for the start of the WDA tournament on Thursday, February 17th ( he's led the Demons in scoring the last two seasons ).
Hunter's biggest fan no doubt is his dad Rick Acker
Like any father, watching your son growing up playing every sport available is a huge thrill. Imagine what it's like to see him grow, excel and be out there with him on the same field ( Manager ) Now fast forward to the present. Rick works for Townsquare Media, and one of the many things he does is provide color commentary along with Rob Meltzer for SuperTalk 1270, covering high school hockey games on the radio. Let's bring it back to January 18th, the exact second Hunter was motionless on the ice, the pain must have been twenty times worse in the press box. To hold on to your emotions while calling a game on the radio in real-time is quite difficult. Taking your son to rehab, talking with him through the most depressing times of his injury, to provide positive encouragement is what a great father is all about. Time does heal, but with every athlete it's different. To have someone on your side who aches, even more, that's called tremendous support. Through Rick and his wife Mindi, Hunter will glide on the ice soon enough, and be back where he belongs. There STILL is some season left to play, and that is fortunate for all of us.
---
10 Awesome Golf Courses In ND