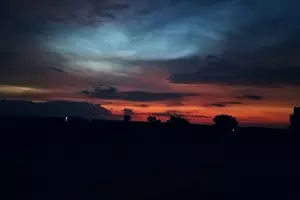 Jaimelynn Dante Engle is This Week's Cool photo Winner!
cool photo winner 8-17-2018
Another week, another winner. This week Jamestown's Jaime Lynn Dante snags the prize!
She's a very interesting character with a great eye for photography. This photo looks like a very beautiful sunset or the set of Donnie Darko.
From Jamestown, and ordained in the Church of Dudeism (got to be a Lebowski thing) she really is a North Dakota original.  She probably has a connection to Detroit somehow because she's a Lions fan (sorry). I think she would be a Big Uncle Ted fan as well. I can see her rocking out to the Nuge.
One of the great things about her looking over her Facebook page is the fact that she has a pretty dark and funny sense of humor. It comes out in her posts as well as her photos.
Hopefully, she has fun today knowing she's the big cheese on Cool as the reigning Photo of the Week winner and has a party with the platter of Subway Subs she just won.
I'm thinking the calls have already been made ... Congrats Jamie Lynn!